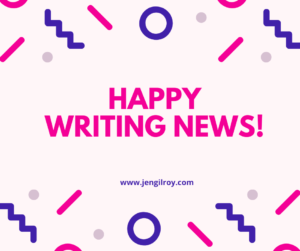 While much of the writing life is like any other job with daily tasks, deadlines and a variety of projects big and small, there are also special moments to celebrate.
I have two of those to share with you this week—news about a new book and the paperback release of A Wish in Irish Falls.  
New book news—I'm a Harlequin Heartwarming author
As you may have seen in my recent newsletter or on social media, I've just signed a contract to write a story for Harlequin Books Heartwarming series. 
With "uplifting romances where the bonds of friendship, family, and community unite," the Heartwarming line is a great fit for my writing and I'm thrilled to be working with my new editor there.
My first book for Heartwarming is a sweet western romance set in Montana and will likely be out in e-book and paperback in early 2022.
What's new about my writing for Harlequin Heartwarming?
It has a western setting so think ranch life, campfires, cowboy culture, horses, and a big western sky.
The book will be a bit shorter too, circa 70,000 words instead of 90,000 and with a lower sensuality level—hugs and kisses only.
What will stay the same?
As in my Firefly Lake trilogy and Wishing Tree books, my Montana book is a sweet, feel-good story with small-town charm and features relationships between family, friends and pets alongside a central romance.
How does this new book relate to my own life?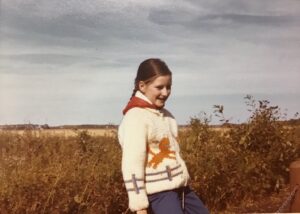 I'm a prairie girl at heart who grew up in Western Canada so some of my earliest memories are of visiting small western towns in ranch country, much like the one my dad came from.
Almost as soon as I could walk, I had a pair of cowboy boots and hat, although as a girly girl I usually wore them with pink dresses and a sparkly necklace from the dressing-up box.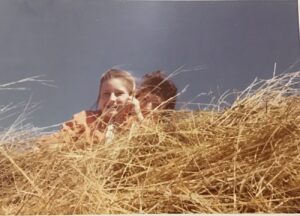 Pickup trucks are part of my DNA (although having one of my own as an adult is still on the bucket list!), along with a childhood spent playing in barn haylofts and climbing  straw stacks–here I am at age eight with my mom joining in. 
I've also had many wonderful vacations in Montana, colloquially known as "Big Sky Country," and one of my happy places is driving along a rural western road at sunset in summer, the land stretching to the horizon as far as I can see—small in the world but with a sense of limitless possibilities.
I hope you'll join me on my "Montana adventure," and I'm excited about sharing more of this new book with you as the months go on.
The paperback of A Wish in Irish Falls is here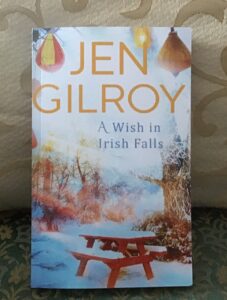 If you've been waiting for the paperback of my second Wishing Tree book, A Wish in Irish Falls, it came out at the end of January, much earlier than expected.
Get a copy on Amazon here (look for "paperback" on the book's Amazon landing page).
A Wish in Irish Falls is also available on Kindle and is free with Kindle Unlimited.
"[An] emotional story filled with loss, hope, and learning to start over again. My heart was hooked right from the very start. Jen Gilroy creates a small town you never want to leave!"
~Goodreads reviewer~
If you're a library user, I'd also appreciate it if you could ask your local library to buy a copy of A Wish in Irish Falls for their collection. It's an easy way to support authors, me included, and helps us reach new readers.
And if you don't already receive my monthly newsletter with subscriber-first news, book sales, exclusive giveaways and more, sign-up with your email address here. 
Thank you for being part of my life and writing journey.