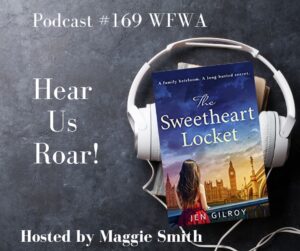 Thanks to Maggie Smith, host of the Women's Fiction Writers Association (WFWA) podcast series, "Hear Us Roar" for interviewing me about writing in two genres (women's fiction and romance) while "still holding tight to [my] unique creative voice," career strategy, women's fiction authors who inspire me and my women's fiction and historical debut, The Sweetheart Locket.
We also chatted about the more personal too, including why I collect angel ornaments.
Listen to that podcast episode (for free) here.