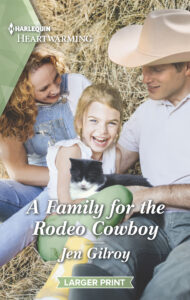 A Family for the Rodeo Cowboy, my new sweet western romance from Harlequin Heartwarming is now available in paperback (large print) and eBook. 
Although it's the second in my Montana Carters miniseries (following Montana Reunion), it also stands alone.
A footloose cowboy…A single mom who needs stability…Can they find an unexpected family?
Get your copy of A Family for the Rodeo Cowboy here or from Harlequin and most other online retailers. 
UK readers: Since Heartwarming titles aren't available in the UK, you can order a paperback (with free shipping) from Blackwell's Online.