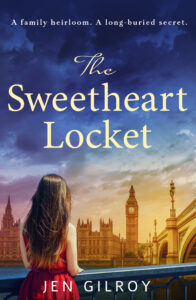 Thanks to author Laura Vosika and Certified Cicerone (beer sommelier) Michael Agnew, hosts of "Books and Brews: Where Literature Meets Beer" for interviewing me on this fun podcast.
Listen in to hear me read three excerpts from The Sweetheart Locket, my Second World War dual-time women's fiction novel, and find out which types of beer Michael paired with my book.
We also chatted about how a "what if" question from my family history sparked the story that became The Sweetheart Locket, wartime "sweetheart jewellery," including my own vintage Royal Air Force locket which also features in the book, and how I researched the French Resistance movement and women's roles especially.
Find out more and follow the links to listen to the podcast episode (aptly titled "Secrets, Spies & Family Ties in WWII and Today") in full or part here and see outtakes on YouTube here.