Between writing and family, the past few weeks have been more than a little chaotic here. However, amidst what's felt like constant change and upheaval, I'm trying to focus on what makes my life better.
I hope "my three things" encourage you to think about good things in your life and, like me, celebrate small joys.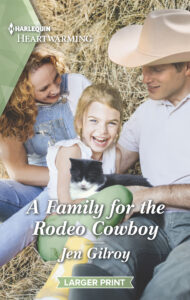 A new book and kind reviews 
My latest sweet western romance for Harlequin Heartwarming, A Family for the Rodeo Cowboy, has been out for almost a month and readers love it.
When a reviewer "gets" my story, I know I did my job well—for readers and myself too.
"Jen Gilroy never disappoints…Feel-good, entertaining and wonderfully romantic, this terrific tale of opposites attracting, second chances and falling in love is a joy from beginning to end." –Bookish Jottings: The Romance, Saga and Women's Fiction Blog
Friendship
I'm blessed to have friends who lift me up when I need it, celebrate with me when life is good and even one who "mothers" me when I miss my own mother's wisdom.
I also have a dear friend who appears with "virtual tea" at just the right moment.
As she said in a recent email: "If you hear the chink of china, that's me with the tea."
I added biscuits (cookies) ready for a trans-Atlantic chat or, in British English, a "chinwag."
Clearing the clutter
If, paraphrasing Einstein, "a messy office is the sign of a cluttered mind," my mind has recently been very cluttered indeed.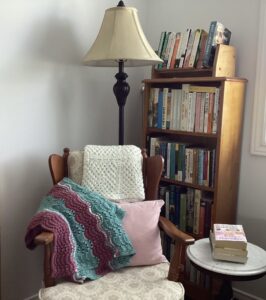 However, after several weeks of sorting, cleaning, tidying and general catching up, both my office and mind are once again in a state of calmness and order.
Not only can I see my study carpet, but I've reorganized my books and reading nook to create a space that's welcoming, comforting and refreshes my soul.
And as I see the various editions of my books on a shelf, I remind myself to focus on what I've achieved and look towards the future with hope, "my word" for 2023.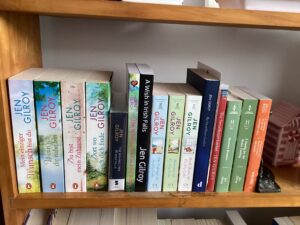 Or as my late mom said, "count the plusses," and that's what I'm trying to do.
What's currently making your life better?
Get a copy of A Family for the Rodeo Cowboy (eBook or larger print paperback) here or request it at your library.
UK readers: Since Harlequin Heartwarming titles aren't sold in the UK and the Book Depository has closed, you can now get a paperback from Blackwells Online (with free shipping) here.