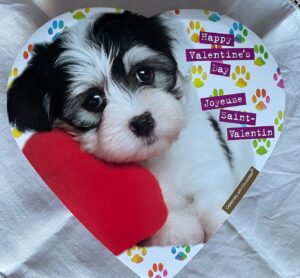 Heading towards our twenty-sixth wedding anniversary, these days Tech Guy and I don't usually make a fuss over Valentine's Day.
While we celebrate our love, we don't typically do so on February 14 when restaurants are busy, flowers over-priced and there's unspoken pressure to live up to a kind of romance that doesn't fit with who we are as a couple.
This year, though, and with English Rose at university, we were looking forward to our first Valentine's Day as empty nesters. We'd planned a special takeout meal, movie and cozy evening together.
Best-laid plans…
Since Tech Guy works with colleagues in Asia, he often has business meetings outside the standard nine-to-five.
Last week, though, someone had the not-so-bright idea to schedule a conference call for Valentine's Day evening in North America.
Although Tech Guy, to his credit, got the time of the call changed, it was by then too late to order our special meal from a restaurant forty-five minutes away.
Still, we persevered. What we ate wasn't important. All that mattered was couple time.
Cards and candy
We exchanged Valentine cards and shared chocolates. After picking up a replacement meal, we watched a Netflix show while deciding on a movie.
All was going according to the revised plan until the phone rang.
The cadaver
It was English Rose. And she was in a panic. With an anatomy practical exam several days hence, she'd lost access to her "virtual cadaver."
Owing to the pandemic, her university cancelled in-person laboratory studies so a "virtual cadaver" was on this year's list of school supplies.
Without going into details, cadaver access was restored and English Rose was no longer on the metaphorical academic ledge—not helped by there also being a flood in her university residence meaning she hadn't had running water all day.
Finally time for romance?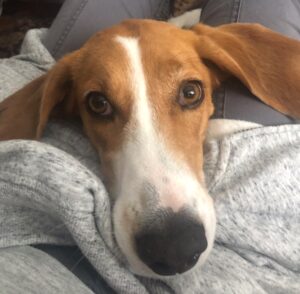 By then, it was too late to watch a movie so I went upstairs to get ready for bed.
Tech Guy promised he'd follow soon.
He did but Floppy Ears got there first.
When Tech Guy was also ready to get into bed, his side was already occupied by thirty-four pounds of determined hound.
When he tried to move Floppy Ears aside, our usually placid dog made her feelings known with a low, "don't mess with me" growl.
Love is….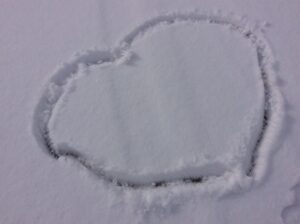 There are times when laughter is the only option and that was one of them.
While our Valentine's Day didn't turn out as planned, lasting love is about more than one day.
Rather, and in all seasons, love is laughter, family, dogs and even a cadaver!
Coincidentally, the women's fiction book I'm currently writing is about marriage and life after the happily ever after.
It won't, however, feature a cadaver, real or virtual, because sometimes, life is stranger than anything I invent in fiction.