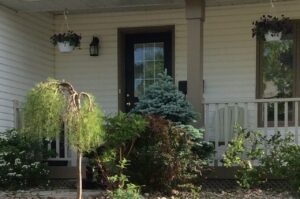 If you follow my Facebook author page, you know that I usually post there daily.
It's a happy place and virtual front porch where I chat with readers about things that bring us together including pets, books, food, family and community life.
Last week, I asked my American followers about popular chocolate bars in the United States because in the Montana-set, western romance I'm writing for Harlequin Heartwarming, the hero keeps a chocolate stash in his desk drawer.
At a time when the closed Canadian-American border means I can't visit the U.S., I wanted to make sure, in a sentence at most, to reference brands that would resonate with American readers.
Given the vagaries of Facebook's algorithm, and that with any post I only reach a small proportion of page followers, I hoped for a handful of answers.
Instead, I reached 389 people, had 63 post engagements and got numerous helpful comments about not only popular chocolate bars but also:
Pictures of favourite candy bars;
Preferred ways to store and eat chocolate;
Web links to additional information;
Touching family anecdotes;
An offer to mail me chocolate which I sadly had to decline owing to pandemic-related postal disruption;
Private messages with market research data about chocolate preferences amongst U.S. consumers.
Although Snickers was a clear favourite, answers to what I expected to be an ordinary question gave me so much more than book research.
Chocoholics
Clearly, my American readers love chocolate, but what I also learned is that many Canadians have favourite chocolates that are only available in the United States.
One of the unexpected effects of the pandemic and absence of cross-border travel has been the inability of Canadians to stock up on special American sweet treats.
Community
While there are many things that divide us, there are many more things that unite us, chocolate being one.
And although some of the brands of chocolate mentioned were new to me, one favourite crosses international borders.
The Kit Kat, a chocolate-covered wafer bar, is popular in Canada, the UK, and the United States and brings a community of chocolate lovers together. 
Kindness and helping others
The overwhelming response to my question underscored something my grandma always told me, namely that given the opportunity most people want to be kind and help others.
My books are premised on that way of seeing the world so it was wonderful to see kindness and helpfulness on social media too, a sphere where currently such things can seem in short supply.
My Montana western romance 
Finally, why I asked the question in the first place…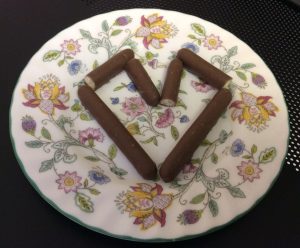 My hero now has a desk drawer stuffed with chocolate including Snickers, Mounds, Three Musketeers, Baby Ruth, Milky Way, Hershey's, Kit Kat, Reese's Peanut Butter Cups, Dove, Ghirardelli and more.
And instead of being a passing reference, his chocolate horde is now part of his character as suggested by several author friends who commented on the post.
It's also something the heroine teases the hero about and helps show the growing relationship and love between them.
Celebrating chocolate…and my readers
Thanks to my lovely readers who in celebrating chocolate not only helped make my book better but also made me smile.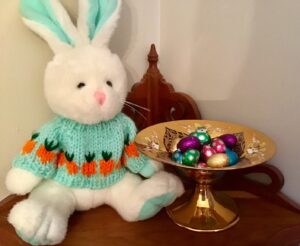 For those of you celebrating Easter this weekend, enjoy this yummy, chocolaty time!
And if you don't already follow my Facebook author page, join the fun here.