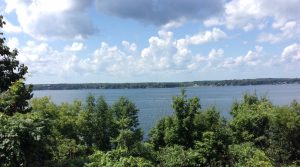 When I think about summer (and especially during a long, cold Canadian winter), one of the first things to come to mind is the road trip.
Growing up, summer road trips were a highlight of my year. With my parents and the family dog too, I crisscrossed Canada and sometimes the US, exploring wilderness areas, historic sites, cities, small towns and more.
Looking back, those trips helped shape the writer I'd become.
Along with giving me rich sensory memories I now mine for my books, they introduced me to a world beyond home with new people, new ways of looking at the world and often markedly different speech patterns.
A part of me still melts whenever I hear a US Southern accent because of a trip to Tennessee in my teens, and the blond-haired, blue-eyed Georgia boy at the campsite next to ours!
With my own family, I took road trips while living in the UK too, including one memorable (for the wrong reasons) excursion through Belgium, France and Germany. On that trip, a toddler English Rose covered her ears when anyone spoke to her in a language that wasn't English and refused all manner of continental breakfast delicacies, insisting loudly on "toast" and "Marmite" until the very last day when she wanted "croissant."
Last week, I made new memories on a road trip of a different kind. Since English Rose was diagnosed with a chronic medical condition two years ago, the holidays we're able to take have changed. Long car journeys are out at the moment (as are long-haul flights), and as in everyday life, we have to plan vacation activities day-by-day around what she's able to manage.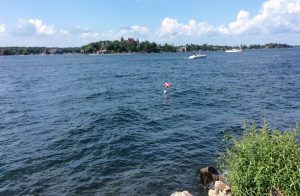 This year, we travelled just over an hour from home to the beautiful Thousand Islands area along the St. Lawrence River between southern Ontario, Canada and northern New York State. After a few days exploring Kingston, Ontario, one of Canada's most historic cities, we then went on to Toronto to spend the rest of the week there, using the apartment where Tech Guy lives during the week as a base. 
Although much different than the road trips of my childhood, it was also still much the same.
Then and now, the weather was hot, the sky was (mostly) blue, and puffy clouds drifted high overhead.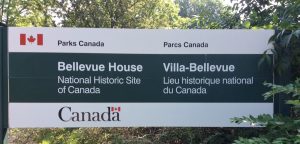 Then and now, we visited museums and historic sites, the "culture" my parents and now I insist on, and we also made new friends.
And then and now, small things went wrong. 
Items were lost (two phone charger cords between Kingston and Toronto), forgotten at home (a bottle of sun screen and a bathing suit), and there were disagreements, usually related to directions.
But then and now, I spent unstructured leisure time with the people I love most and nurtured family bonds in ways I don't do at home.
And now in particular, I'm grateful because this road trip was a special blessing. Despite the many medical challenges English Rose faces, we were still able to get away to do something fun that will be a highlight of the year for all of us. 
And the icing on this particular road trip cake? Although we were almost a thousand miles north of the Mason-Dixon Line, I even heard a Southern accent, a blue-eyed silver fox from Virginia staying at the same Kingston hotel as us.
Although I have a happy life with my own blue-eyed, increasingly silver fox, I still took note of the Virginia one…for research purposes, of course!