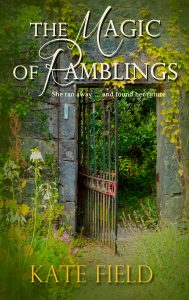 In the second of this occasional series on my blog, I'm chatting with my friend Kate Field whose first book, The Magic of Ramblings, was published in September 2016 by Accent Press.
Like me, Kate is a member of the Romantic Novelists' Association (RNA) in the UK. She lives with her husband and daughter in Lancashire in northern England and, in addition to being a debut novelist, she's also a "debut kitten owner," and I often get my "cat fix" from her Facebook page.
We connected via Twitter and, apart from writing, have much else in common including a love of chocolate (Fry's chocolate cream bars in particular), Jane Austen's Persuasion and reading in bed.   
Kate writes contemporary women's fiction, and The Magic of Ramblings, a story about a woman who runs away and finds her future (including a mysterious and intriguing hero), tugged at my heart from the first page and didn't let go.
I'm delighted to have Kate here today and, in her honour, have brought out my best vintage tea set, and added Victoria sponge cake, homemade scones, jam and clotted cream, and imported English tea to the diner "specials."
Cassie, the heroine of The Magic of Ramblings, takes a job as a companion to Frances, an elderly lady who lives at "Ramblings," a wonderful Victorian Gothic mansion.
As someone who spent much of her time in the UK visiting stately homes at National Trust properties and now follows Country Living UK and BBC Homes & Antiques magazines from afar, I definitely have "house envy." Is Ramblings (which even has its own library!) purely a product of your imagination or was it inspired by a real house?
Ramblings is purely fictional, but when I was thinking about what sort of house it should be, I knew I wanted it to be something out of the ordinary, but also a house that could conceivably be found in Lancashire, where the book is set. I spent many happy hours researching the stately homes of Lancashire, and came across one called Scarisbrick Hall. It is now used as a school – for some very lucky students! – and isn't open to the public, but it's a Victorian Gothic house, featuring tall chimneys, turrets, towers and arched windows, and as soon as I saw it I knew I had found the right style for Ramblings.
I then searched for more examples of Victorian Gothic architecture and found Tyntesfield, a National Trust property in Somerset. It's a glorious building, and although it's larger than my Ramblings, I used it as my inspiration when writing the book. 
I'd read about Tyntesfield but knowing that it inspired your book, it's now on my list of places to visit on my next trip to the UK.
One of the things I most enjoyed about The Magic of Ramblings is its vivid sense of place. There's some beautiful sensory writing in your book ("the sky had darkened to the colour of squid ink" intrigued me) and, having lived briefly in the north of England (the Lake District), I was delighted to note the reference to Herdwick sheep.
 How have your Lancashire roots influenced you as a writer?
On a practical level, the Lancashire climate – predominantly wet and windy! – gives me plenty of time to stay indoors and write!
When the rain does stop, I love walking in the countryside, and I think the landscape has definitely influenced me. From one side of my house, I look onto bleak moors, whose tops are frequently masked by cloud; from the other side, I see rolling fields of sheep and cows, leading down to the village and the beautiful reservoirs in the valley bottom. It's impossible not to look around and imagine the sort of people who would live and work in this landscape.
I took this photograph on a walk near home, because I could immediately picture my hero, Barney, striding through these fields with his dog at his side.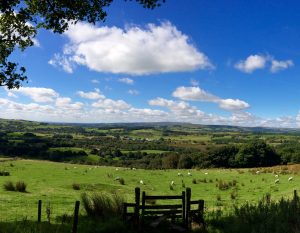 You live in a beautiful place, Kate, and having read the book, I can indeed picture Barney in those fields. Not only has Ramblings given me "house envy," I also now have "view envy!"
I discovered The Magic of Ramblings via a blog post by a mutual friend, Susanna Bavin. The cover drew me in because it was reminiscent of one of my favourite children's books, The Secret Garden. Do you have a favourite book from childhood?
I don't think I can limit my answer to one book! I grew up in the days before computers and video games, and spent most of my time reading, but out of the hundreds of books I must have read, a few stand out from various stages of my childhood.
Enid Blyton's books about The Magic Faraway Tree were my early favourites, and later I loved her books about The Famous Five too. I read Swallows and Amazons by Arthur Ransome many times – it's set in the Lake District, not far from Lancashire, and there's always something special about reading books based in an area you're familiar with.
As I grew older, I loved Anne of Green Gables, and the Nancy Drew and Hardy Boys stories. While you were reading about England, Jen, I was longing to be in North America!
We share many favourite books, Kate. When I first visited the Lake District, I was so excited to see Swallows and Amazons country. If you're able to visit Canada one day, I hope you can tour Prince Edward Island. It's so much a part of the special world of Anne of Green Gables and even today, it's easy to imagine the characters there. 
In North America (my own books included), small towns are a popular setting for both contemporary romance and women's fiction. The Magic of Ramblings is set in an English village, but it has a similar "feel" to these small-town stories because of its cosy pub, network of family and friends and caring sense of community.
Did you draw on personal experience of village life to depict your fictional world?
I love reading books set in small communities and I find it hard to resist a book that has a map of a fictional town or village at the front! There's so much scope for drama in a small town or village setting, when everyone knows each other's business – something I think you show so well, Jen, in The Cottage at Firefly Lake. It's also fascinating to think about the impact it could have on a character to be surrounded by people who have watched them grow up, and to have the weight of previous generations resting on their shoulders.
I do live in a Lancashire village, but the one in Ramblings is purely fictional, as are the characters! The idea for the community library that Cassie starts at Ramblings came from personal experience though; there's a library held in my village hall on Saturday mornings, and I'm one of the volunteers.
Thank you for your kind words about my book. I'm glad you enjoyed its small-town setting. Your reference to a library in your village hall makes me remember with fondness aspects of my life in England.
The Magic of Ramblings is your first published book. Did you write any books before Ramblings or (and unlike me) did you find your writing voice straight away?
Ramblings is the sixth book I've written, over a period of about 25 years, so it has taken a long time to find my writing voice!
I started off by writing a couple of Regency romances, because those were the books I loved reading at the time. I then tried two contemporary books, which I thought were romantic comedies, until I sent off a couple of chapters of one of them for a critique and was told it was "simply not amusing." That hurt, but in hindsight I can see that it was exactly the tough feedback I needed. I'd chosen to write romantic comedies because they were popular with readers, not because it was the style of book I wanted to write. Once I'd accepted that, I started to write book 5 – which will be published later this year!
I well know how tough feedback hurts but you're right, it's sometimes needed (although ice cream and chocolate can help soften the blow!). Thanks for sharing how it takes time to learn how to write from your heart.
And on that topic, for me, one of the many strengths of your book is its believable, multi-faceted characters and emotional depth. Without giving away any spoilers (or the mystery), the three main characters, Cassie, the heroine, Barney, the hero, and Frances, the elderly woman for whom Cassie works as a companion, all have troubling—and intensely emotional—secrets in their pasts.
Do you think writers need to be able to feel strong emotions themselves to depict them realistically for readers?
Thanks for your kind words about my characters. It's important to me that they are realistic. I want the reader to believe that the characters existed before they picked up the book, and that their lives will carry on beyond the final page.
I haven't experienced the particular difficulties that Cassie and Frances faced in the past, and their stories are based on imagination and a great deal of research. But I do think that living through troubled times has affected my writing. There's one difficult year that I can clearly see marked a change, to the extent that my writing can be divided into 'before' and 'after.' The books that came 'after' are richer and have more emotional depth, to my mind.
That's something else we have in common. My life has also had its share of "troubled times" and you're right, those difficulties have helped give more emotional depth to my writing.
On a lighter note, I enjoy visiting places that inspired much-loved books, and the UK has such a rich literary heritage. Have you gone on any "literary pilgrimages?"
Yes, many! We certainly are lucky here. My first pilgrimage was probably to Stratford-upon-Avon to visit Shakespeare country. I studied several Shakespeare plays at school, and my incredibly kind parents often took me to Stratford on holiday, and sometimes for the day (a long journey from Lancashire!) so that I could watch some of the plays at the Royal Shakespeare Theatre.
My favourite pilgrimage involved visiting Jane Austen's house at Chawton, an amazing place to visit for any fan. As you've mentioned our shared love of Persuasion, Jen, you'll understand when I say I've visited Bath many times to retrace the steps of Anne Elliot and Captain Wentworth!
Closer to home, I live about an hour away from Haworth in Yorkshire, home of the Brontë sisters, which is a fascinating place to visit. 
There are Brontë connections in Lancashire too: Charlotte Brontë frequently stayed at Gawthorpe Hall, which is a beautiful Elizabethan mansion not far from my home. 
Chawton…bliss! When I lived in England, I was within an easy drive of Chawton and it's a such wonderful place to visit. Thanks for giving me and all my readers a bit of armchair travel. I'm restraining myself from booking a flight immediately!
I know your second book is scheduled for publication later this year. Please tell us more about what's next in your writing life.
 My next book is called The Truth about You, Me and Us, and is due to be published at the end of August. It's based around a small group of craftspeople and the heroine, Helen, is a crazy patchwork artist. Crazy patchwork is one of the many things I intend to try when I have spare time!
Such an intriguing title and premise. Although I'm not a quilter, I inherited several quilts from my mother's family and one is a "crazy patchwork." I shall read with even more interest now.
Thanks for joining me here today, Kate. The Magic of Ramblings is a wonderful book, and I'm very much looking forward to The Truth about You, Me and Us, too.  
Thanks for inviting me, Jen, and for providing the delicious English afternoon tea!
You can connect with Kate on Twitter (@katehaswords) and Facebook 
Buy The Magic of Ramblings for Kindle or in paperback on all Amazon platforms including Amazon.com  as well as The Book Depository (with free shipping worldwide).
Here's the blurb for The Magic of Ramblings 
When Cassie accepts a job as companion to an old lady in a remote Lancashire village, she hopes for a quiet life where she can forget herself, her past and most especially men. The last thing she wants is to be drawn into saving a community that seems determined to take her to its heart – and to resuscitate hers…
Frances has lived a reclusive life at Ramblings, a Victorian Gothic mansion, for over thirty years and now Barney is hiding away there, forging a new life after his medical career ended in scandal. He doesn't trust the mysterious woman who comes to live with his rich aunt, especially when she starts to steal Frances' affection – and maybe his own too.