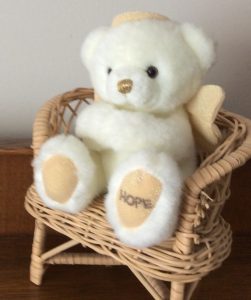 The past year has been difficult for many of us, and my word of the year, "gratitude," has taken on a poignancy I could never have anticipated when I chose it last January. In some ways, I'll be grateful to see the end of 2016 for it's been a year of turbulence and loss both personally, as well as on the wider global stage.  
In my own life, relationships have been tested and friendships lost. Health and family challenges have brought a myriad of stresses. Domestic appliances have failed like clockwork, and thanks to a recent leaky pipe and basement flood, even Christmas decorating is complicated, somehow in keeping with this unusual year.
At many points, it's been easy to feel low, particularly as I contemplated water flowing across the basement floor and bemoaned the delay in occupying the new home office space I'd eagerly anticipated.
Yet, in the midst of that immediate chaos, two things made me stop and take stock.
First was Tech Guy, who after wading through water to temporarily stop the leak, reminded me that in the broad spectrum of life, this was but a temporary setback.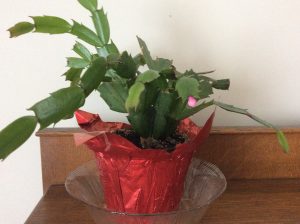 And then, behind the teetering pile of household goods relocated from the basement to the dining room table, I spotted a tiny, pink bud. It was attached to the Christmas cactus I rescued after my Cousin Mary's death in October 2015.
She passed away in a care home at the age of 105, and in the few days that elapsed between her death and my arrival in a city many miles away to coordinate her funeral, her possessions had been bundled into large, plastic bags.
When I opened one of the bags, the cactus tumbled into my lap. It was upside down, foliage bent and broken, and with soil everywhere. A less sentimental person would have thrown the plant out, but I couldn't.
Cousin Mary was renowned for the beautiful flowers and tasty vegetables she lovingly cultivated in her garden each summer. In her memory, I packed the cactus into a smaller bag and brought it home on the plane with me, checking on it almost as frequently as I once did a baby English Rose.  
Once home, I researched Christmas cactus care online, added new soil to the pot, watered it to schedule, talked to it, and waited and watched. When a moving company delivered Cousin Mary's vintage plant table to my house, her cactus took pride of place on top of it.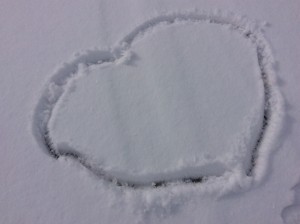 Now the cactus is set to bloom for Christmas, just when I needed a symbol of hope, love, and a tangible reminder of what's most important in life.  
As it turns out, I'm not alone in my need for such validation. Always attuned to trends, advertisers have seized on the public mood and from Heathrow Airport's Coming Home for Christmas film to the Christmas Spirit for Allegro, a Polish auction website, many advertisements this year have at their heart a return to the intangible values that transcend individuals, countries and cultures.
No matter what, how and where you celebrate this season (and from my desk tucked in beside our still undecorated Christmas tree), I wish you happiness, love and hope to carry you into the new year.