Holiday party season is here. It's the time when families, friends and co-workers celebrate the year that's passed, and anticipate the one ahead.
It's also the time of year when I reflect on my writing goals and plan for the next twelve months. I take stock of what I've achieved, and set new goals which become part of an annual plan for my writing business.
Writing is a creative endeavor. However, to take it beyond a hobby, I learned to treat it as a business, using my head as well as my heart.
With my head, I set SMART goals – specific, measurable, attainable, realistic and timely.
Although I'd like to write two single-title length romances a year (specific, measurable and timely), with a family and full-time day job that goal isn't attainable or realistic. Instead, I focus on what I can do – write one 85,000 word romance for submission to the Romantic Novelists' Association (RNA) New Writers' Scheme (NWS) by the deadline of 31 August 2015.
I also set goals related to other work in progress and the business of writing – requests from my agent, my website, blog and social media activity.
Do I meet every goal?
No. Sometimes life intervenes. But the goal keeps me focused on where I want to be, and how to get there.
Just as important, though, is using my heart.  
Who else can appreciate the joy of solving a tricky plot problem? Or know the effort needed to pick myself up from negative feedback and keep moving forward. 
Celebrating successes large and small nurtures my heart. The rewards don't have to be big. Special chocolate, a film or reading for pleasure work wonders for motivation.
And for the bigger events, there's my writing charm bracelet.
A charm bracelet was a rite of passage for me and many other Canadian girls of my generation. My parents gave me mine when I was ten and, for the next few years, every significant life event, from a puppy to my first cowboy boots, was commemorated with a silver charm.
When I got serious about writing, I decided to start a writing bracelet. It would be a visual touchstone for the times when I was tempted to give up.
That bracelet now holds seven charms. My first writing contest final, when I signed with my agent, and a charm for consolation too, when I gave something my all and still didn't reach the goal I'd set.
Jingling on my wrist, the bracelet reminds me I'm on a journey. Even if I someday add a charm for my first published book, that journey won't end as I'll set new goals.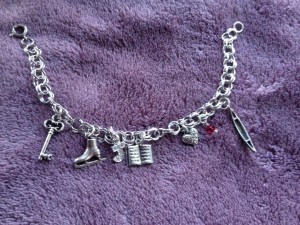 Do goals help you reach your dreams? At this party season, are you remembering to celebrate your success?