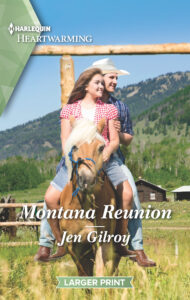 Montana Reunion, my debut western and Harlequin Heartwarming romance, is out in a few days on January 25.
To those who have only known me in one part of my life, for example, my years in England or now small-town Eastern Ontario, Canada, it may not be immediately obvious as to why I'm now writing western-set stories.
Once upon a time, however, I wore cowboy boots and lived in places where western life and culture were celebrated.
A little cowgirl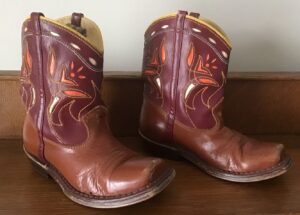 I wore this pair of cowboy boots between the ages of two and three.
According to family lore, I liked them so much I sometimes wanted to wear them to bed. Together with a child-size cowboy hat, my first fashion was "western fashion."
Fast forward a decade or so when, as a teenager, I saved up the money I earned babysitting to buy a pair of nut-brown Frye western boots.
I wore those boots for years and still lament sending them to a charity shop when I was in university—and purged my wardrobe in favor of a preppy look.
Prairie life and landscape
I spent my childhood and adolescence in the province of Manitoba which, along with Saskatchewan and Alberta, is Canada's answer to the American west.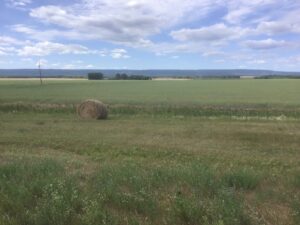 Thanks to my dad having grown up in a small Manitoba town, one of the first ways of life I knew was a western one.
As a result, and also from family vacations in Montana and living in Alberta for two years as a young adult, I still love that vast prairie landscape where the land meets the sky.
I have fond memories of western life too: Ranches, pickup trucks, rodeos, line dancing and cowboy hats lined up on wall hooks in small-town diners.
Country music
Although trained as a classical musician, I've always had a soft spot for country music and those who make it.
Perhaps more so than any other musical genre, country music (original country from the American South today fused with what was once country and western music) tells stories—about love and romance, work and family and more—in only a few minutes.
Listening to such music, by artists like Tim McGraw and Taylor Swift, as well as Alberta-born musicians Paul Brandt and Terri Clarke, taught me about storytelling and how to convey emotion long before I began writing fiction with the goal of publication.
And now, when I put together playlists to help me create the world of a book, one or more country tunes always feature. For Montana Reunion, it was Paul Brandt singing Alberta Bound (with a nod to Montana) and Luke Bryan's "What Makes You Country." 
Montana Reunion and writing home
In many ways, writing Montana Reunion was like coming home to places and people I've always held dear, no matter how far away life took me.
As Beth, the heroine of my story, returns to Montana for the first time since she was a teenager, what she sees is what I also see in the West:
"'It's only a sky. There's nothing special about it.' Twelve-year-old Ellie spun away from Beth to roll her wheelchair along a wooden pathway.
Except, it was a Montana sky, streaked with soft gold, blue and gray in the early July evening as the sun settled over the distant mountains. A sky as big as Beth remembered and with the same sense of endless possibilities." Copyright © by Jen Gilroy 2022
I now live in a part of Canada where it's rare to see cowboy hats and boots, the landscape is dotted with small farms rather than vast ranches, and most horse riding is English rather than Western style.
But while the preppy look is once again back in fashion, this time I'm holding firm to my early western roots.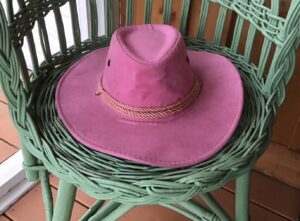 In fact, I have my eyes on a pink cowboy hat similar to one I once gave English Rose with boots to match… to be worn by a future fictional heroine unless, of course, I decide to treat myself too!
If you haven't already pre-ordered a copy of Montana Reunion, available in large-print paperback or e-book, find out more and with buy links to multiple vendors here.
Note for UK readers: Unfortunately, Harlequin Heartwarming titles are no longer regularly available in print and e-book editions in the UK. However, you can order a large-print paperback from The Book Depository (with free shipping) here.