Becoming a published author has taught me many things but perhaps most important is how to juggle multiple writing projects at the same time.
This month, when I have multiple book deadlines within a few weeks of each other, I've been once again reminded that certain things characterize "deadline me," and likely many other authors, as the day approaches when we have to hit "send" on a manuscript.
Food and drink
When I'm under the greatest deadline pressure, I eat at my desk with grazing and snacks replacing meals—at least until Tech Guy sets one in front of me.
Walnuts and dried apricots are excellent writing fuel, although I've learned to keep cookies and other sweets out of the house because if I don't, not only my manuscript becomes heavier!
Fashion…or not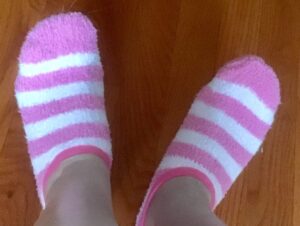 While my usual writing attire, yoga pants and T-shirts, is far from fashionable, when I'm on deadline I often stay in my pyjamas, dressing gown and slippers until midday or later.
If I'm not dressed, I can't leave my house and be distracted. And since morning is my most productive writing time, moving from bed to desk as quickly as possible maximizes work hours.
This week, however, I realized it had been twenty-four hours since I'd brushed my hair and, in a particularly embarrassing lapse, had gone to the grocery store wearing mismatched socks and only one of a pair of earrings.
Housework
As my word count increases, stacks of books and paper accumulate too.
Post-deadline, cleaning my office space and house are my way of resetting both my writing and real lives.
As for that real life?
Deadline me is someone for whom "real life" is far removed from my fictional worlds and characters.
I've been known to pass friends on the street without recognizing them and, with my own family, am in a permanent state of distraction
Tech Guy understands "deadline Jen" and recently, when I gave him what must have been yet another blank look, he asked if I was in in Montana (for my western romances) or England (for my women's fiction novels).
Only another author, though, is likely to appreciate why I'm seeing variations of my fictional characters everywhere, almost as if they've walked out of my imaginary world and into my everyday life.
Deadlines come and deadlines go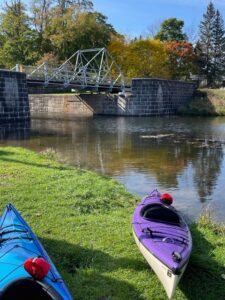 In a few weeks, I'm taking a break with no weekend work and, hopefully, some late-season kayaking.
In the meantime, it's fingers on the laptop keyboard and head in the clouds.
Deadlines come and go, but they're an integral part of the author life. That kind of pressure also helps me get to the heart of a book, and my own heart, imbuing my fiction with needed emotional texture and richness.
And because I'm blessed to be able to do what I love, I wouldn't have it any other way…at least some of the time!