With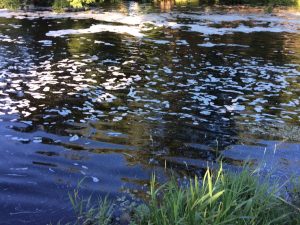 significant events in both my writing and mum lives, this past week has been a time of joy, reflection and bittersweet change.
Book edits 
As many of you know, Montana Reunion, my Harlequin Heartwarming and western romance debut, releases in January 2022.
It's a sweet second-chance romance with cowboy hats, boots, horses, ranch life, a creek and many more of my favourite things. There are dogs too, including several who have more than a passing resemblance to Floppy Ears.
This week, I checked what in the publishing world are called "last galleys."
As the author, it's my final chance to read the book and make changes before it goes to proofreading and then on to press.
I've seen the cover (it's gorgeous!) and am waiting for the go-ahead from my publisher to be able to share it with you. In the meantime, you can read the book's blurb via Harlequin, Amazon and most other retailers. If you're so inclined, you can pre-order it in paperback or e-book too.
A big birthday
English Rose also celebrated a big birthday this week, her eighteenth.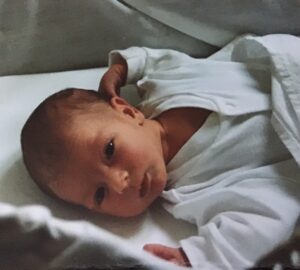 While I rejoice in the wonderful young woman she's become, in some ways it seems like yesterday that she was the baby Tech Guy and I brought home from an English hospital.
As we buckled our new daughter into her new car seat, I remarked to Tech Guy that I'd been given more instructions when I adopted a rescue cat. Yet, despite facing parenting challenges we never then imagined, somehow, we've muddled through.
Tech Guy, though, has never truly lived down the occasion when he and my late dad took an infant English Rose to our village pub having dressed her in her clothes backwards.
An even bigger move
Not least, this week English Rose has moved away from home to start university.
I'm happy and grateful that she's able to pursue a university education and live somewhat independently (in a hall of residence/dorm). Yet, I'm also not ready for an empty nest, and our home will seem very quiet without her.
Focusing on the moments
On that day eighteen years ago when English Rose was born, I focused on the moments, not the years that lay ahead.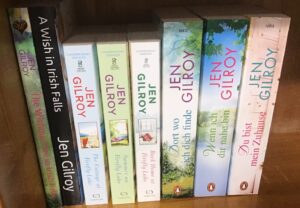 Those years have gone quickly and as English Rose has grown, so have I, not least in becoming the published author I then only dreamed of.
This week, and as I did so long ago, I'm once again focusing on the moments because before I know it, right here, right now will soon be 'yesterday' and 'back then.'
And as I've juggled everything happening this week in writing and life, I'm comforted that English Rose has already requested visits from Floppy Ears.
If the dog travels an hour and a half away from home, I will too!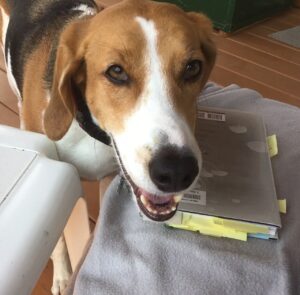 Besides, there are several excellent bookshops, parks and a wonderful bakery in English Rose's new hometown…and new memories to make.