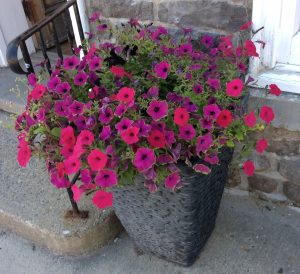 With temperatures topping 30 Celsius (90 degrees Fahrenheit) in the Rideau Valley this week, it's indeed summertime in my small town.
From the fishing spot off the town dock, to the outdoor swimming pool, and lines at local ice cream shops, everyone is savouring seasonal joys.
I'm writing this blog post on my porch (to a soundtrack of that Gershwin classic, "Summertime") and thinking about my own special summer moments.
Endless days
In a northern country, and after a dark and cold winter, summer's long, bright days are a cherished gift.
For an instant, as the sunlight slips through the slats in my bedroom blinds to crisscross the wooden floor, I'm a child again, waking on the first morning of the long summer holiday with no plans beyond fun.
Farmer's markets and summer food
There's a weekly farmer's market at the end of my street and wandering around the stalls and buying fresh local fruit and vegetables, homemade jam, cupcakes, seasonal pies and more is one of my favourite ways to spend a Sunday afternoon.
Then there's savouring the bounty at home with BBQ's, fruit crumbles, summery salads, and other treats unique to this time of year.
Travel
Summer is also the season for exploration whether it's a longer trip, an excursion closer to home, or even in my own backyard.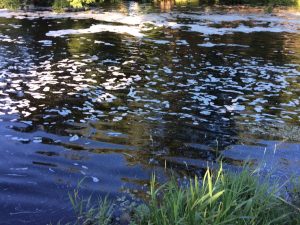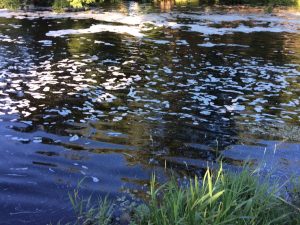 Since English Rose hasn't been well, we haven't yet booked a summer holiday but whether near or far, we're still planning to take time off as a family to stop, recharge, and reconnect.
One of this summer's highlights for me will be spending a week in England in July to attend the annual conference of the Romantic Novelists' Association (RNA), held this year in Leeds.
With workshops on the craft and business of writing romantic fiction, I'll come home energized and inspired, and with tips and tools to help make my future books better.
I'm also looking forward to catching up with friends, and swapping my writing "uniform" of yoga pants, T-shirts and slippers for real clothes and, of course, shoes (glam heels for the gala dinner!). 
Smells and sounds
Whether it's the damp scent of the creek that runs through my town, the sweet, smoky aroma of a cook-out, or the faint echo of music from an outdoor festival, summer is sensory rich.
Listening to summer rain patter on the porch roof while breathing in the smell of damp grass and flowers makes for one of my happy places—timeless and forever calming.
Reading on the porch
Not only do I read different kinds of books in the summer (bring on the beach read!), but there's something about reading outdoors, either on my porch, in a park, or by a body of water, that means I also read differently.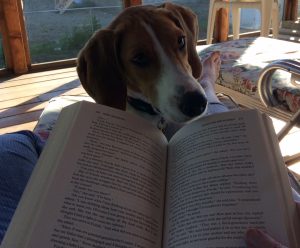 I read more slowly (and with extra interruptions of the four-legged kind), but I also reread old favourites more than usual, almost like revisiting treasured vacation spots.  
I'm stocked up on books, my cosy reading socks have been packed away in favour of bare feet or flip-flops, and iced tea and pink lemonade are at the ready.  
I wish you summer joys and many special moments of your own.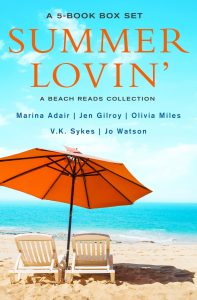 And if you're looking to add to your stock of beach reads, my first book, The Cottage at Firefly Lake features in a new box set, Summer Lovin' Beach Reads Collection, released earlier this month. 
This 5-book, e-book box set of romance novels full of sun, sand and summer fun also includes Last Kiss of Summer by Marina Adair, One Week to the Wedding by Olivia Miles, Meet Me at the Beach by V.K. Sykes, and Jo Watson's Burning Moon.
Amazon US
Amazon UK
Amazon Canada
Barnes & Noble
Google Play
iTunes
Kobo
Chapters-Indigo