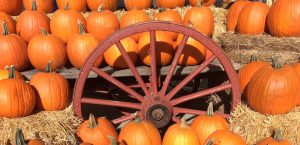 "When the going gets tough, the tough go shopping." Or in my case, shopping for comfort food.
As the weather cools, and darkness comes earlier, it's the time of year for comfort food. However, in addition to childhood favorites like chicken pot pie, macaroni and cheese and hearty vegetable chili, when life feels uncertain, I also seek out a whole other realm of foodie treats.
As many of you know, I lived in England for many years. During that time, trips back across the Atlantic from Canada to my English home weren't complete unless various food items were tucked into my suitcase.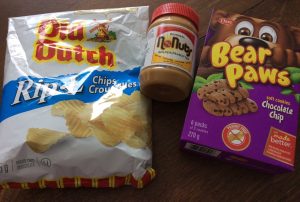 If a custom's official had opened my luggage, they might have suspected me of operating a dry goods import business. From saltine crackers to jars of NoNuts Golden Pea Butter (a peanut butter substitute for those with a nut allergy like me), and Bear Paw cookies to Old Dutch potato chips, I filled my case with cherished tastes of "home."
Now I'm living in Canada, I have different cravings—this time for the British foods I miss and that are either difficult or impossible to secure here.
But this week, I found my personal nirvana.
Tucked into a typical Canadian strip mall in a busy city suburb, the shop windows gave no clue as to the delights inside. And even when I went in—and was confronted by what appeared to be acres of Scottish tartan, enough Irish Claddagh rings to outfit half the population of my small town, and an array of British souvenirs to rival a central London tourist stall—I still had my doubts.
Yet, there was a whiff of a special something. And after wending my way around shelves heaving with Scottish clan mugs and shamrock-patterned china, I found it.
The overhead fluorescent lights showcased a miniature British food shop in all its glory!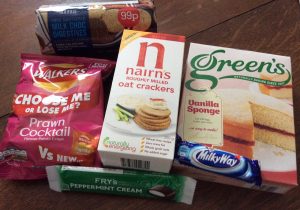 There were the digestive biscuits I'd been craving, right across from packets of Walkers prawn cocktail (shrimp) flavoured crisps (potato chips). One long shelf displayed chocolate bars and other sweet treats and beyond it were my favourite Scottish oat crackers.
I opened a chiller cabinet to inhale the scent of Double Gloucester and creamy Lancashire cheeses, and (discreetly) popped open the lid to sniff a bottle of green Fairy washing up liquid (dish detergent).
For that brief instant, all was right with my world.
When you've lived outside your birth country for any length of time, "home" becomes a fluid concept. For me, it means having multiple homes, and grocery items become part of the language of cross-cultural communication.  
As I left the shop with a bulging carrier bag, I took a business card with me. Christmas is coming, and a special shipment of Marks & Spencer Christmas puddings is coming with it!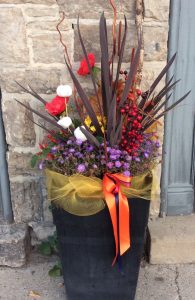 For now, though, I'm stocked with British goodies for a very Canadian Thanksgiving.
For those celebrating this weekend, and from my family to yours, warm wishes to you and your loved ones.