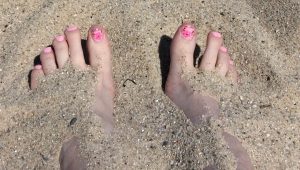 Tech Guy, English Rose and I have been on holiday this week. After months of bouncing between writing deadlines (me), school and medical appointments (English Rose), and work in big-city Toronto and our small-town home (Tech Guy), we all needed time to stop, reconnect and simply "be."
And so this week we've been in Nova Scotia, a province on Canada's Atlantic coast. It's a place where the tourism board advises visitors to "pack light, breathe deep," and the pace of life is just a little slower.
I've set writing aside to wiggle my toes in the sand of an almost-deserted beach.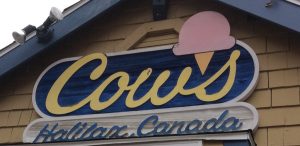 Instead of a keyboard at my fingertips, I've had ice cream in my hands because really, what is a vacation without the delights of local ice cream? 
Here, it's Cows and, with flavours ranging from Fluff N Udder to Messie Bessie, there's been a whole sweet language of taste temptations to explore.
I've also savoured lobster sliders, chunky seafood chowder and that quintessential Canadian delicacy, the "beavertail," a sweet, fried pastry topped with cinnamon and a dash of lemon.
To work off all that food, I've ambled up hills and down, and I've stopped to smell the wild roses that grow along paths leading to the ever-present sea.
And while spending time with my own little family, I've also rediscovered a part of myself.
My parents met and became engaged in Nova Scotia. My mom, a small-town Ontario girl, was a nurse at a hospital in Halifax, Nova Scotia's capital city. My dad, a small-town Manitoba boy, was stationed at a local Royal Canadian Navy base. 
I grew up with stories of a place as foreign to me as those I read about it books. It was as magical too because without my parents' Nova Scotia past, there might not have been a me.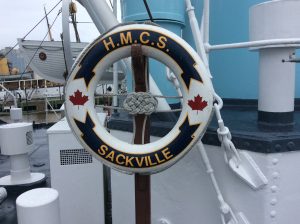 This week, I've followed in the footsteps of my parents all those years ago. I've toured a ship that's now a museum holding some of my dad's Navy memorabilia, crossed Halifax harbour on the ferry as they once did and walked in the gardens where they courted.
In seeing where my parents' life together began, I've forged new links between my past and present. And in sharing bits of who her grandparents were with English Rose, their past will, I hope, go on into her future. 
And while every holiday is a time for making memories, I'll carry those I've made on this one in my heart for the rest of my life. 
As for that ice cream I'm carrying on my hips? I still have a few days of vacation left—and more Nova Scotia hills to scale!