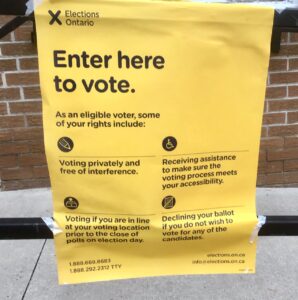 There was an election in my Canadian province last week and I worked at a polling station to help the democratic process run smoothly.
As well as a fun day meeting new people, it was also a journey into my own past and Canadian rural life.
Smartphones, soya beans and a septic system
Farmers with smartphones chatted about spring seeding and delays in planting soya beans (soy beans) because of rain and wet fields.
Friends and neighbours caught up on family and local "doings" and a photo of a new baby was shared with everyone including poll staff.
Part of the job was monitoring parking to ensure voters didn't leave vehicles on the lush green grass beside the polling station. Why? The septic tank (used for waste treatment in areas without a central sewer system) was beneath it.
And when one of the people who'd installed the septic system arrived to vote, soon followed by a local builder, both asked poll staff if we needed their help to pitch in and fix anything…just because they were there and had tools in their trucks.
Much like in my small-town romances, rural life is a connected life where people still say "hi neighbour" and look out for each other.
Swatting mosquitoes in a schoolhouse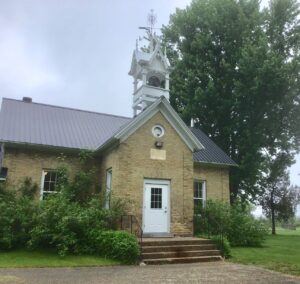 The polling station was housed in a one-room schoolhouse, now community hall, built in 1875.
Near the farm where my maternal grandmother grew up, she'd have known the building well and may have attended classes there.
Along with the poignancy of seeing the old chalkboards and honey-wooden floor, I experienced something else that hasn't changed since my grandma's time.
Needing to leave the outside door propped open to welcome voters, I was swarmed by mosquitos all day.
Albeit more annoyance than health hazard, as one voter commented with typical rural Canadian wit: "At least you missed black fly season."
My own rural roots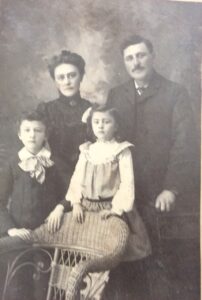 Ancestors on both sides of my mother's family came to rural Eastern Ontario in the nineteenth century from Ireland, joining other migrants who flocked to Canada in search of a better life.
Almost two hundred years later, that family heritage persists in the names of roads, villages and farm properties where their descendants still live—evident when I checked current voter identification.
I also spotted names linked to my own family, and children (and grandchildren) of people I remember from summer visits to my grandparents.
And although now in decline, hearing remnants of the distinctive Ottawa Valley English dialect with echoes of Ireland took me back to being a child in my grandmother's kitchen.
As I drove home that night, alongside fields long-ago family once tilled, I once again realized why I tell stories of family and community relationships.
They're also stories I live and love—one day and book at a time.