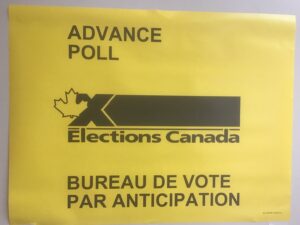 For most of my adult life, I fit my writing around a nine-to-five job. However, in the past six years, in part due to English Rose's medical challenges, I've been a full-time writer.
This month, though, I've once again juxtaposed my writing with a temporary part-time 'day job' working for Canada's federal election.
While I anticipated the financial benefit, I didn't expect this work to also energize my creativity and writing life.
Life in the 'real' world
As a solitary writer, I spend most of my time in a T-shirt and yoga pants interacting with fictional characters inside my head.
After eighteen months of pandemic, in-person interactions have been limited to my immediate family, medical appointments and physically distanced chats with neighbours when walking Floppy Ears.
Yet this month, and while working as an Information Officer at the election's advance polls, I've met several thousand people.
Although wearing a mask and, on occasion also behind a Plexiglas screen and/or face shield, being in the 'real' world is something I needed.
I swapped my yoga pants and T-shirt for smart tops and trousers. I chatted with people I hadn't seen in over a year. Overheard conversation snippets sparked new story ideas and characters. And I heard family anecdotes that have shaped the community I now call home and which also inspires aspects of the small-town stories I write.
'Author me' intersects with 'real me'
My election work is part of what I call my 'real life' separate from my author persona. It's work where I'm recognized as English Rose's mum, the woman who walks Floppy Ears and who takes a dance class at a local studio.
This month, and for the first time ever, a few electors recognized me as Jen Gilroy who writes books.
I was asked about my Firefly Lake and Wishing Tree stories and what I'm currently working on. And in chatting about my books, different parts of my life came together in new and happy ways.
Moving between languages and cultures
Canada is a bilingual country and many Canadians, me included, speak both English and French. Yet, after many years in England and at home in an Anglophone environment, these days I rarely speak my second language.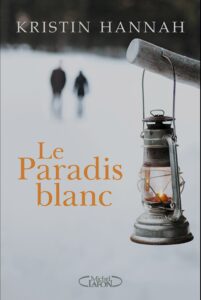 I still listen to French and One Thing in a French Day is a favourite podcast.
I read French too, from translated women's fiction titles (like Kristin Hannah's The Great Alone) to Harlequin romances (the French edition of Jenni Fletcher's Harlequin Historical, Besieged and Betrothed).
Via my election work, it's been a joy to speak with Francophone electors and I was pleased when several told me I speak "good French," despite not having a French name or Québécois (or other Canadian French) accent.
This experience has reminded me that the French language and culture are an important part of my life.
As for my accent? I learned French from Parisians which is also now shaping a book I'm writing.
Looking at myself and the world in fresh ways
After being outside my house at a day job, I've returned to writing with new energy, enthusiasm and creativity.
Although an introvert, I can extrovert when needed and I don't use that side of my personality often enough when working almost entirely online.
While routine is good, shaking up that routine on occasion is necessary too.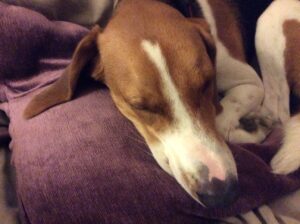 And while Floppy Ears was less enthusiastic about the disruption to her routine (according to Tech Guy, she moped when I was gone), her normal life of contented naps by my desk has resumed!
Little does she know, I'm also working September 20, the main election day.