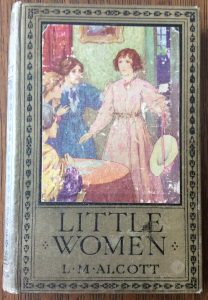 In each story I write, I aim to create strong, independent heroines who face real-life challenges that other women can relate to.
I've realized, though, that the heroines and their journeys I create in my own books have much to do with my favourite fictional heroines—the girls and women who shaped me as a person, as well as an author.
Amongst a long list, here are my top five.
Jo March (from Louisa May Alcott's Little Women)
In my early teens, I wanted to be Jo. She's independent, brave, and often unconventional, but always devoted to her family.  
Best of all, Jo wants to be a published author and her literary efforts helped inspire my writing dream.
Laura Ingalls (from the Little House books by Laura Ingalls Wilder)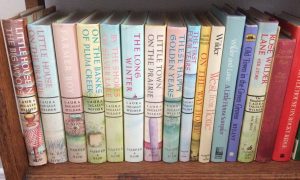 Like the indomitable Laura, I too had brown hair and wished it were blonde. I also made mistakes and wasn't perfect. And when I was ten, I counted Laura Ingalls as one of my very best friends.
In retrospect, though, Laura's experiences on the American frontier also taught me about perseverance, courage, faith, and being grateful for small joys.
Not least, the Little House books introduced me to women's history and the important roles played by girls and women in pioneer families—an interest that continues in my adult life. 
Sara Crewe (from Frances Hodgson's Burnett's A Little Princess)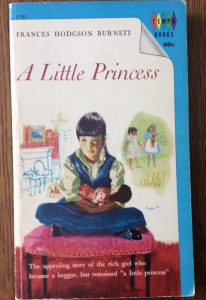 This riches-to-rags, and then return to riches story made an indelible impression on me as a child. The heroine, Sara, is imaginative, resourceful, and brave and, despite enduring many hardships, stays true to who she is to earn her fairy tale ending.
And for any girl who ever felt excluded from a group as I often did, A Little Princess is a feel-good story where in the end, the bullies, both adult and child, get what they deserve!
Valancy Stirling (from L.M. Montgomery's The Blue Castle)
A fairy tale of a different sort is The Blue Castle by the author of the much better known Anne of Green Gables series. Although not labeled as such, The Blue Castle is probably the first romance I ever read.
At the age of twenty-nine, Valancy Stirling is plain, has no marriage prospects at a time when a "good marriage" was considered a woman's primary goal, and is constrained by her domineering and gossipy family. Yet, and like many romantic heroines after her, Valancy finds the courage to change her life and become the heroine of her own story.
When I first read The Blue Castle as a teenager, Valancy's journey to independence and personal fulfilment taught me much about self-belief and being true to who you really are.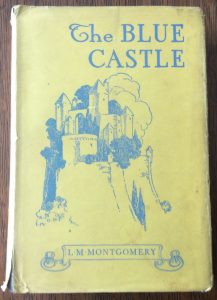 And at its core, the romance between Valancy and the mysterious Barney Snaith models the kind of romantic relationships I now write about—ones based on mutual respect, friendship, and shared interests.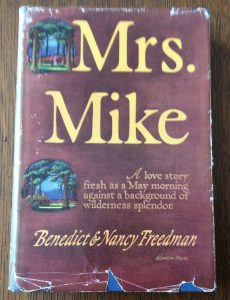 Katherine Mary Flannigan (from Benedict and Nancy Freedman's Mrs Mike)
Set in the Canadian wilderness in the early nineteenth century, this story is another favourite teenage read that has stood the test of time.
The sixteen-year-old heroine, Katherine Mary Flannigan, is independent, strong, and resilient in the face of what for most would be unimaginable hardship and tragedy. As she grows and changes through the course of the book, I learned about love, marriage, and living life on your own terms.
All that, plus a handsome, kind, capable, and swoon-worthy Mountie hero!
These books and many more gave me positive female role models who inspired me and taught me about the feminine experience. They also encouraged me to be myself and helped me learn to make the best of difficult times.
Books can change lives and, at an early age, these are some that changed mine. What fictional heroines inspire you?