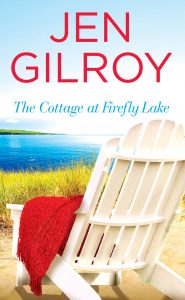 It's been a little over two months since The Cottage at Firefly Lake was published. In that time, many of you have taken my story into your lives and hearts.
Thank you for buying my book and asking for it in stores. Thank you for asking your local library to order it. And thank you for leaving reviews on Goodreads, Amazon or elsewhere and sharing my book with your family and friends.
Thank you for contacting me on Facebook, Twitter or via email through my website. Your kind words about The Cottage at Firefly Lake have warmed my heart.
Word of mouth is one of the best ways for authors to gain readers, and for a new author especially, you can play a big part in helping get the word out about not only my first book, but also those to come—Summer on Firefly Lake (published on July 25, 2017) and Back Home at Firefly Lake (now with a new release date in December this year).
In whatever way you've already done or can do in future, thank you for being cheerleaders for my work.
Over a year ago, I wrote about the transition to calling myself an author. The transition to "published author" and seeing my book "out in the wild" has been similarly life-changing.
Although I'm glad I look like my author photo, it still surprises me when people I don't know recognize me from it. It's also surprising (but wonderful) when people ask about characters in my book as if they are real.
And, not least, it's humbling when readers tell me what my book has meant to them.
Whether Firefly Lake has allowed them to "escape into another world," given them respite from medical worries, or meant they've put off domestic chores to read one more chapter, each such comment makes all the hours I spend in front of my laptop worthwhile.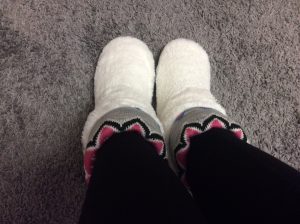 Since becoming a published author, my working day is much the same as it was before. I still have a word count, deadlines and social media and marketing commitments. I still do my most productive work in yoga pants and slippers. And I still angst about the blank page to be filled and how to tell stories in the best way I can and grow as a writer.
Yet, the axis of my world has shifted because now people beyond my agent and editor read my books and are invested in my fictional world to the extent that the characters are like friends. 
Despite the many other things that go along with being a published author, at the end of the day, everything begins and ends with the story and those who read it.
I'm very grateful for each and every one of my readers, and I'll never take the bond we share for granted.
Now to the giveaway…
Many of you know that I choose a word for each year, and my word this year is kindness.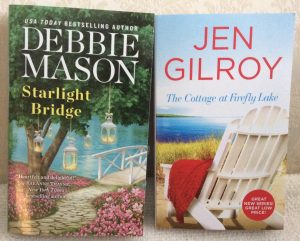 To celebrate kindness and say thank you to all the readers for what they do for authors like me, anyone who comments on this blog post will be entered into a draw to win either:
A signed paperback copy of The Cottage at Firefly Lake.
OR
A paperback copy of Starlight Bridge, the new release by USA Today Bestselling author Debbie Mason (a second-chance romance and the second book in her Harmony Harbor series).
Debbie is a wonderful author, and if you haven't yet discovered her books you're in for a reading treat. She's also been very kind in sharing my book with her readers, so I want to share her book with you in return.
Note for blog subscribers: If you receive my blog via email, head over to my website and comment on the post on the "Blog" page there.
This giveaway is open until Wednesday, 12 April until midnight ET and I'll choose two winners at random thereafter. I'll  mail internationally so don't forget to tell your friends.
This giveaway is now closed. Congratulations to Lally Brown, winner of a signed copy of The Cottage at Firefly Lake, and Kate Field, who has won Starlight Bridge by Debbie Mason. Happy reading to you both!