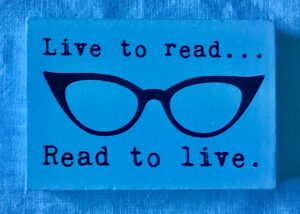 After being hit hard with Covid in June, some symptoms lingered throughout the summer.
And with "brain fog" and almost continuous migraines, I wasn't able to read much—or remember what I'd read (or heard when listening to audiobooks) from one moment to the next.
While there are many worse things in life than missing reading, as someone who usually has a book (or more) in hand, I didn't quite know what to do with myself.
As post-Covid symptoms began to ease, returning to familiar stories like Noel Streatfeild's Ballet Shoes which I'd read many times before, seemed to help my "fuzzy brain" continue to heal.
Then, I tackled new-to-me children's and shorter young adult titles, part of a broader goal to read at least one such book each month in 2023.
Amongst these, I especially enjoyed two Canadian stories.
The first, Kristli's Trees by Mabel Dunham, is the heartwarming story of an eight-year-old Mennonite boy living on an Ontario farm in the 1940s and won the Canadian Library Association Book of the Year for Children Award in 1948.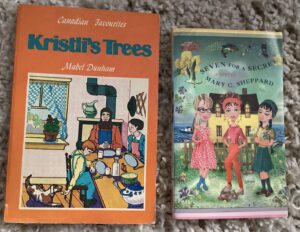 The second, Seven for a Secret by Mary C. Shepphard, is a beautiful but often heartbreaking young adult family saga about three girls—cousins—coming of age in an isolated outport community in 1960s Newfoundland (first published in 2002).
And finally, despite reading more slowly than I did before Covid and fewer books at a time, I've now started two adult titles.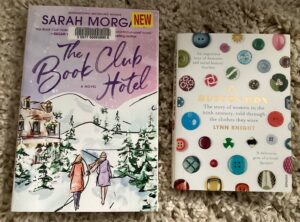 What's on my nightstand at present?
Favourite author Sarah Morgan, who never disappoints, has a new release, The Book Club Hotel.
This cozy, feel-good holiday read about female friendship and the power of books to heal is exactly what I need to get back into reading full-length novels.
I'm reading a fascinating non-fiction book as well, The Button Box by Lynn Knight, a present from dear author friend Susanna Bavin (who also writes as Maisie Thomas and Polly Heron), and is "the story of women in the twentieth century, told through the clothes they wore."
As a writer, I don't only enjoy reading, but I need to read as widely as possible for my job. Books written by others help me learn and develop my own writing craft.
Yet, I'll always be a reader first and especially at this grim and troubled time, escaping into fiction benefits my mental and emotional health and gives me hope.
So, rather than lamenting my teetering TBR (to-be-read) pile, both physical and electronic, I'm instead excited to tackle it.
And thanks to Covid and its after-effects, I'll never again take for granted the privilege of reading and joy books bring to my life.