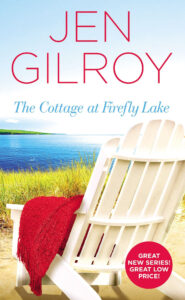 After a tough first half of 2023, I'm looking forward with hope (my word of the year) to what the next six months will bring.
As part of a mid-year reset, I'm taking July and August to recharge, regroup and refocus. I plan to spend most of my time at our new holiday home, a lakeside cottage in the beautiful Rideau Lakes area of Eastern Ontario, Canada.
Have you read my first book, The Cottage at Firefly Lake?
In that small-town contemporary second-chance romance, I celebrate cottage and 'lake life' in fiction.
Now, it's a blessing to realize a long-time dream of cottage ownership in real life.
The 'lake'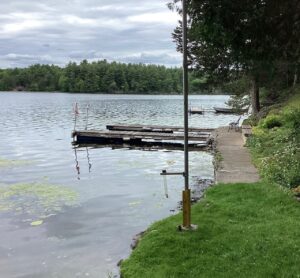 Growing up in a place where 'going to the lake' (nobody specified which one) was part of the lexicon, I'm lucky to now have a lake house of my own.
From the deck, we watch wildlife, boats, fish jumping and more.
And from sunrise to sunset, the ever-changing panorama is not only calming but inspires me in life and writing.
Small towns, rural life and barn quilts
At the lake, life in nearby villages is as I remember it from childhood small-town memories.
In a local shop, the proprietor knew about me and my family because she's friends with the previous owners of our house which had been in their family for more than half a century.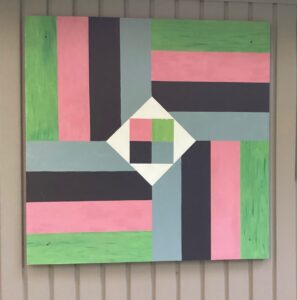 As in the fictional communities I write about, people in the area have deep roots, close-knit ties and a strong sense of community.
It's also more rural than 'home' and while Tech Guy notes the progress of local crops, I delight in spotting barn quilts. If this North American rural folk art is new to you, find out more here.
The gift of time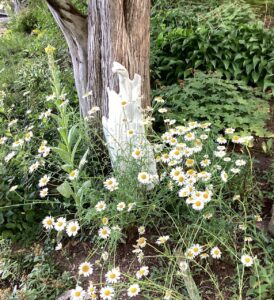 From swimming off the dock, relaxing with a book and paddling my kayak in tranquil water, the pace of cottage life is slower—happily so.
While writing this summer from my desk by a window overlooking the lake, I'm also looking forward to more time to 'be' in life and myself.
And on quiet days when the only sounds are birds calling and the soft lap of waves against the shore, I'll think about life, living and writing in ways I need to.
As I continue to recover from my severe bout of Covid, I'm taking my usual summer blogging break a bit early so will be off for the rest of July as well as August.
Wishing you a safe and happy summer (for those in the northern hemisphere) with times to savour your own special places and joys.
My blog will return in September. Thank you for being part of my life and writing.
A writing update 
In case you missed it in my reader newsletter, publication of my next WW2 women's fiction title, The Secrets of Grey Oaks Hall, is on hold.
I'm sorry not to be able to share this book with you this summer as anticipated and will let you know status when I can