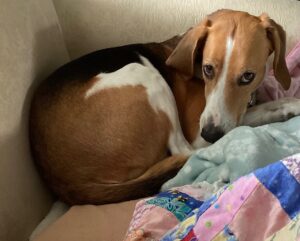 Are you, like Floppy Ears, wondering why there's been an unexpected gap in my blog posts?
If you follow me on social media, you may have spotted that after escaping the Covid-19 virus for three years, Tech Guy, English Rose and I all came down with it at the end of May.
The family that's sick together has no choice but to stay together. However, we're fortunate to have a large enough house so we could be in different bedrooms and use different bathrooms.
Tech Guy had the mildest case of the virus and within a week he and English Rose, who had more severe, but still manageable cold-flu symptoms, were well on the road to recovery.
I drew the proverbial short straw and experienced every typical Covid-19 symptom, as well several more unusual ones.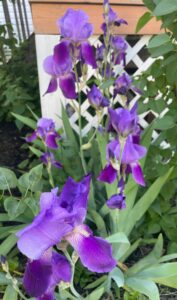 After days when I could barely get out of bed, at the ten day mark, "progress" was making it downstairs to admire our garden irises.
Whilst others have been able to spend their Covid-19 quarantine catching up on books, movies and other hobbies, for possibly the first time in my life I was too unwell to read or look at a screen and the days slipped by in a foggy blur.
Now, two weeks from the day I tested positive, I still don't have a lot of energy but I do have a great deal of gratitude.
As one of the unlucky people "flattened" by this virus, I appreciate how much worse I could have been if not for vaccines, boosters and, as an asthmatic with difficulty breathing, being prescribed anti-viral medication at a crucial time.
I've had excellent medical care via a doctor, nurses, respiratory therapist, pharmacist and dietician. They're the real heroes and heroines as opposed to fictional ones I write about.
A friend made porch deliveries of groceries and many others offered help too. My small-town life is caring with a close-knit community and never have I been more grateful.
I'm slowly regaining my sense of taste and smell and, in the last few days, I've been strong enough to take Floppy Ears for gentle walks.
As for that bikini body?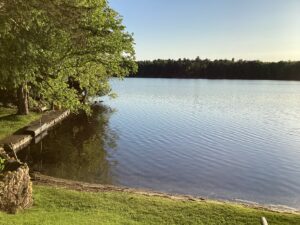 While I don't recommend the Covid-19 diet, English Rose says I now have a bikini body ready for lake life and beach season.
Since I didn't even wear a bikini at her age, I'll continue to pass.
But no matter what I wear, I'm most grateful of all to be here with my family to go to a lake and everywhere else—and still tell stories too.
Life is short, it's precious and I'm thankful to savour its beauty and sweetness once more.