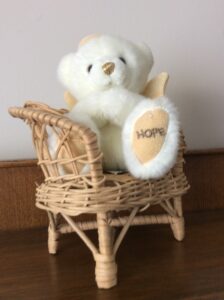 Hope is a theme in my next Second World War women's fiction novel, The Secrets of Grey Oaks Hall. In both the historical and contemporary timelines, female protagonists hold to hope and the promise of better times ahead when life—and living it—are dark.
Hope is also the word I've chosen to live by in 2023.
If you're new to my blog, instead of making new year's resolutions I choose a word of the year. For twelve months, that word guides me as a compass and focus for reflection.
In the last part of 2022, I didn't feel especially hopeful. Combined with ongoing world events, there was illness, my own and close family members. It also seemed that everywhere I turned things in both my personal and professional lives didn't go as planned.
Although I've tried to see such situations as learning opportunities, when 31 December rolled around, I was relieved to see the end of 2022.
Yet, in the last two months of what was for me a hard year, I kept seeing references to hope and they spoke to me in life and writing.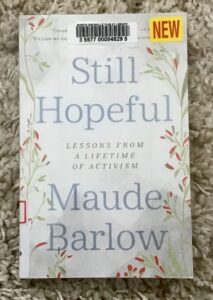 At my local library, front and centre on the "new" non-fiction shelf was Still Hopeful: Lessons from a Lifetime of Activism by Canadian author Maude Barlow.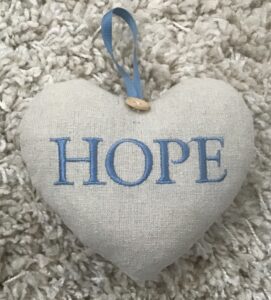 In a box stored in our basement since our move from England to Canada in 2015, I found a 'Hope' ornament that hung in my home office in our English house. I bought it when I was trying to secure a literary agent and traditional publishing deal and was writing on hope.
References to hope also popped up in several books I was reading, and I found myself using it with family and friends.
Clearly, these things were signs!
Choosing hope as my word for 2023 has given me a needed emotional boost.
It's a small word, only four letters, but hope is a powerful impetus for self-belief, motivation and taking action to make changes large and small.
In looking to 2023 with hope, I'm looking forward with the lightness and positivity a hopeful perspective brings.
Wishing you good things in 2023 and your own sense of "hope" in the months ahead.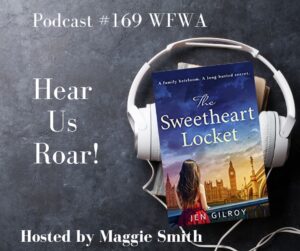 To end with writing news, while I don't yet have a publication date for The Secrets of Grey Oaks Hall, I chatted about my previous wartime book, The Sweetheart Locket, where hope also features, with Maggie Smith from the Women's Fiction Writers Association (WFWA) for their Hear Us Roar podcast series.
Thanks for hosting me, Maggie. We also chatted about more personal things too, including why I collect angel ornaments.
Listen to that podcast episode (for free) here.