Most of us take breathing for granted, exemplified by the expression "as natural as breathing."
Breathing is natural…until it isn't.
As some of you know, I have asthma, a chronic lung condition. Although my asthma is usually well-controlled, this autumn I've had a series of viral respiratory infections resulting in increasingly serious asthmatic episodes.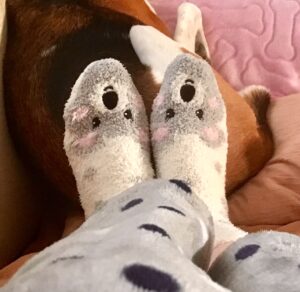 Combined with allergies, the airways in my lungs became inflamed and narrow meaning that breathing—something I usually do naturally—was a struggle.
On doctor's orders, I've just had several weeks off work and everything else to put my feet up, rest (with help from furry Nurse Floppy Ears) and recover.
Thanks to this enforced break, I've been reminded of some important life lessons.
Creativity comes from quiet moments
I haven't been writing or even reading in my usual genres, romance and women's fiction.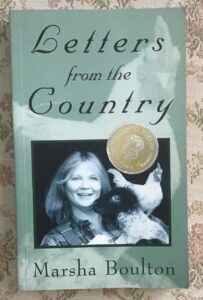 When I felt like reading but couldn't concentrate on an entire book, I turned to magazine articles, short non-fiction (Canadian journalist Marsha Boulton's Letters from the Country about leaving Toronto for farming life was a highlight) and children's stories.
They turned out to be just what I needed:
Easy to read and "digest."
Unrelated to my fiction writing.
A distraction from medication side-effects.
And the bonus?
Whenever English Rose complained of being bored as a child, I told her that "from boredom comes creativity."
Taking my own advice, shutting down and shutting off from everyday life gave me new writing ideas.
Not being able to breathe is exhausting
It was only when I started the right medication and treatment plan for me that I realized how tiring struggling for breath had been.
I can now take Floppy Ears for a walk without having to stop several times to rest.
I have enough energy to bake.
My brain isn't foggy, and I can focus and concentrate as I usually do.
And oh, the joy of a good night's sleep without waking up coughing.
Life truly is about the little things
Reminders to "focus on the little things" are so frequent the phrase has almost become a cliché.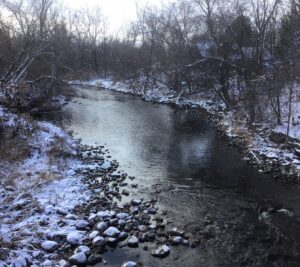 However, this time of rest has reminded me of the importance of small things I often overlook.
The rugged beauty of the Canadian landscape as autumn turns to winter.
The satisfaction of reorganizing my kitchen pantry one shelf at a time.
Interesting architectural details in my small-town world.
And most of all, the realization that although breathing is natural, it's also a gift and one I'll never take for granted.
Heartfelt thanks to…
My doctor, nurse practitioner, respiratory therapist and everyone at Rideau Community Health Services for kindness, compassion and exceptional TLC.
My agents and editors for understanding and support.
Friends and readers for good wishes on social media and privately.
And while I'm now back to work half-days, I remind myself to be in the moment and, as American country music artist Faith Hill exhorted in the hit song of the same name, "Breathe."