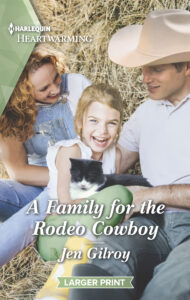 My next book for Harlequin Heartwarming (following Montana Reunion in the Montana Carters miniseries) is A Family for the Rodeo Cowboy, out next April.
In this post, I want to give you a glimpse "behind the scenes" and share not only how a book cover is created but also why this one is so meaningful to me.
Cover design
Harlequin has the most comprehensive cover design process of any publisher I've worked with and it's one I appreciate.
Around the time I submit the full manuscript to my editor, I complete an "Art Fact Sheet" including everything from how I imagine the main characters look and dress to pivotal scenes, key elements of the setting, descriptive words, a book summary and more.
It's a long document and an important one because it helps the art department design a cover that fits the story and will appeal to readers.
Seeing the cover 
As an author, it's a special thrill to see your book's cover for the first time.
The cover for A Family for the Rodeo Cowboy was no exception and I actually gasped when I opened the email attachment.
It was as if the characters who'd lived in my head for so long, animal physical therapist, Melissa (Mel) McNeil, retired rodeo cowboy Cole Carter, and Mel's adorable daughter, Skylar Mary Margaret McNeil, had come to life.
Grouped around Mr. Wiggins, the black and white "tuxedo" cat who lives in the barn at the Carter family's Tall Grass Ranch, this cover evokes everything the book is about:
Family.
Rural and western life —I especially like Cole's cowboy hat!
Animals.
Children.
And love wrapped up in warmth, joy and fun.
Cover love
Sharing the cover for A Family for the Rodeo Cowboy on social media, using the popular romance hashtag #coverlove, I've been heartened by how positively readers are responding to it.
"They're having so much fun," commented one.
"Just makes you smile," said another.
Going behind the scenes
There are always bits of books that have hidden meanings to their authors and this cover captures two of mine.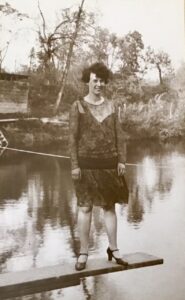 Skylar's middle names, Mary Margaret, honour a much-loved family member who passed at age 105.
Feisty, independent and with a wry sense of humour, there's a lot of that Mary Margaret's personality in my fictional Skylar.
And Mr. Wiggins the cat?
His moniker was inspired by American children's author Kate Douglas Wiggin who wrote Rebecca of Sunnybrook Farm, first published in 1903, and which Mary Margaret, born in 1910, read as a girl.
Rodeo is his past…Is she his future?
Read the blurb and pre-order A Family for the Rodeo Cowboy in paperback of e-book from Harlequin and other vendors here.
A note for UK & Ireland readers: Although Harlequin Heartwarming titles unfortunately aren't sold in the UK & Ireland, you can order a paperback of A Family for the Rodeo Cowboy (with free delivery worldwide) from The Book Depository here.