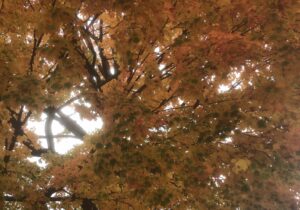 As some of you know, Tech Guy's mother (English Rose's grandma) passed peacefully in the first week of November.
Although not unexpected—she had advanced dementia and other serious medical issues—this time of pandemic made a difficult situation even more so.
It also made me appreciate, though, how many other families are also grieving in this year when almost everything we once took for granted, both in our own lives and the wider world, has been turned upside down.
In Tech Guy's case, Covid-related restrictions meant he hadn't been able to visit his mom in her care home since February, leaving her more isolated at a time when older people need companionship and human contact more than ever.
Those same restrictions meant planning my mother-in-law's funeral was more complex than would ordinarily have been the case, necessitating an outdoor, graveside service with only immediate family attending.
And, not least, the ongoing pandemic meant that habitual comfort rituals at a time of grief—from hugging (and Tech Guy's family are big huggers) to gathering for a post-funeral reception or meal—were no longer possible.
Giving thanks
Yet, and as my brother-in-law who gave the eulogy at the service, said: "Mom always told us to be thankful for what we had and not focus on what we didn't."
As his words wrapped around us, a small group of mask-wearing mourners on a sunny and unseasonably (for central Canada) warm November morning, they reminded me of gratitude, even at a time of grief.
We were there to celebrate the life of a woman who'd lived a long and fulfilled life, rich in the love of family, friends and community.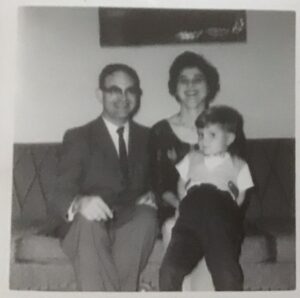 She hadn't been taken by Covid but rather passed peacefully in her sleep, surrounded by treasured family photos and mementoes in a place where she felt safe and received devoted, high-quality care.
My mother-in-law was a private person whose focus was family. As such, and in some ways, the intimacy of the graveside service was almost exactly what she would have wanted. Her five children, eight of her nine grandchildren, several small great-grandchildren, and spouses were all able to gather to honour her life. 
Although we couldn't hug, we could still meet in a way that, only several days later, increased Covid restrictions would likely have precluded.
And not least, just before what would have been their wedding anniversary, my mother-in-law was reunited with her husband whom she loved and missed so very much.
Keeping memories alive
When grieving the loss of a loved one, there is also grief for what the person meant in your life.
However, as the minister who led my mother-in-law's service reminded us, a person dies three times.
Once at the point of physical death. Once again at the funeral or memorial service to mark their life. And once more when there is nobody to remember or say their name.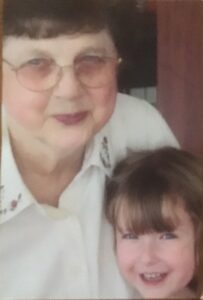 In that sense, my mother-in-law and all those we've lost will live on in both our memories and stories we, including English Rose, here as a small child with her grandma, tell across generations.
And this holiday season, as Tech Guy makes his mother's apple pie, and with trepidation I attempt my mother's Nanaimo Bar recipe (which helped inspire the Nanaimo Bar cheesecake in my Irish Falls books), we will mourn but celebrate the lives they lived too.
Because in this hard year, we need our memories more than ever and to be thankful for those who lived, loved and shaped our lives—and will continue to shape generations to come.
My heart goes out to those of you also grieving the loss of a loved one.
And while I hope those of you in the US had a meaningful Thanksgiving, I also hope that no matter where we live, we can all find something to be thankful for.
If you didn't receive this post via email, do you know that you can subscribe to my blog? 
Every two weeks, get short posts about life or writing with the same heartwarming feeling as in my books. Sign up here. 
Please note: After signing up, you'll receive an email asking you to confirm your subscription.
If not, check your spam/junk folders as confirmation emails sometimes end up there.