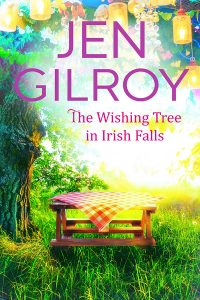 My new book (and first in a new series), The Wishing Tree in Irish Falls, came out last week.
I'm heartened by how many of you are excited to read the story and touched by the lovely things early readers have said about it. If you've already posted a review on Amazon, Goodreads or elsewhere, thank you!
Building a book
I chatted about The Wishing Tree in Irish Falls at my book club's meeting this week and a member asked how authors 'build a book'—meaning where ideas come from and how strands fit together to create a finished story for readers.
Although every author approaches 'building a book' differently, for me, and now with four published books and many more 'under the bed' never to see the light of day, certain things remain the same.
A story idea and 'what if'
Together with an initial idea, I always start with 'what if?'
In the case of The Wishing Tree in Irish Falls, the story was sparked five years ago on a trip to Hong Kong for my then day job when I heard about wishing trees and their importance in Asian culture.  
The idea of tying a wish to a special tree in the belief that a hope or dream will be granted stayed with me and I wondered…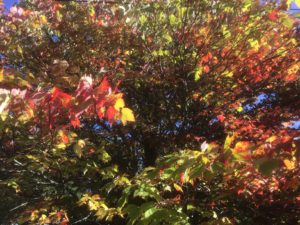 What if two people who'd given up on wishes lived in a town with a wishing tree?
And what if both those people had also given up on dreams once important to them and, like many of us, settled for lives that didn't quite fit?
As I contemplated making big changes in my own life, that story kernel stayed with me and I read more about wishing trees, discovering they're important in many cultures and parts of the world, including Ireland.
I also thought about things I'd given up and was now trying to rediscover including music, roots, and life in a small town settled by Irish immigrants.
From there, Annie and Seth's story was born.
Once I sat down to write, I could picture Quinn's Bakery on Malone Street in small-town Irish Falls (an amalgam of several towns in Eastern Ontario, Canada and the Adirondack region of New York State) and knew how the story started, key turning points, and the ending. Everything else I discovered as I wrote.
Mapping the story and characters
As I build a book, I keep a story map both in my head and on paper, often using different coloured Post-it Notes to track scene order and character development.
I also keep a character list to ensure names and physical descriptions are consistent. That list (hopefully!) avoids the problem I discovered while in edits for one book where the heroine's eye colour changed from brown to blue and then grey in three successive chapters—when she wasn't wearing contact lenses!
Transforming fact into fiction
To a greater or lesser extent (and sometimes more than I consciously recognize), each book I write also draws on bits and pieces of my own life.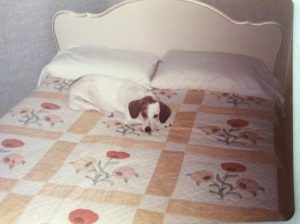 In The Wishing Tree in Irish Falls, the hero's dog, Dolly (named after the singer, Dolly Parton) is based on my childhood dog who long ago 'crossed the rainbow bridge' but now lives again in fiction.
The story showcases my love of music and is a tribute not only to my late dad (the book is dedicated in his memory) but everyone else who has brought music into my life.
The community of Irish Falls is also shaped by my own small-town experience both during childhood summers and where I live now—places that aren't perfect but where people care about each other and pull together in good times and bad.
The power of wishes, dreams and hope…and small-town life
Perhaps most importantly, the story reaffirms my belief in our ability to make positive changes in our lives, even under difficult circumstances.  
As Annie, the heroine, says to Seth, the hero:
"My dad wouldn't have wanted me to give up on a dream. He always told us to reach for the stars. Even if you didn't get there, he said you had to try and maybe you'd catch the moon instead."
At its core, The Wishing Tree in Irish Falls is a story of hope, home, and healing with a bit of humour too for with their joys, eccentricities, and challenges, small towns are microcosms of the wider world—with one particular and important difference.
Except in a small town, someone who'd lived in a community for fifty-three years likely wouldn't see themselves as a newcomer. However, that's how a woman who'd moved to my small town in the late 1960s recently described herself to me.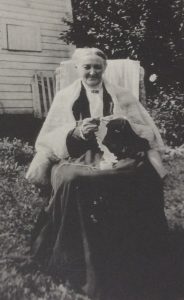 Still, and given that my mother's family and many others came to this area from Ireland in the 1830s (pictured here, my great-grandmother several times over making her celebrated Irish lace), 1966 is indeed recent.
From my heart to yours, happy reading and happy wishing! 
And if you'd like to find out more about The Wishing Tree in Irish Falls (including scene snippets) read my guest blog on Harlequin Junkie here.