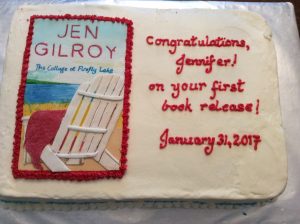 This week I marked a very special anniversary. It's been a year since my first book, The Cottage at Firefly Lake came out, and I realized my childhood dream of becoming a published author.
Publication day, 31 January 2017, was a day of excitement and a profound sense of achievement, mixed with a big dose of I-can't-believe-it! The fact that characters who had lived inside my head for so long were out in the world in a "real" book was a thrill, but humbling and terrifying too.
Along with a flurry of online activity, publication week also included a lovely surprise—a tea party organized by Tech Guy who had secretly invited friends and family round to help celebrate my launch, complete with a fabulous, book-themed cake made by our friend Beth at Celebrate Cakes. 
The months that followed were busy ones. When The Cottage at Firefly Lake was released, I was at different stages of working on both Summer on Firefly Lake (which came out in July 2017) and Back Home at Firefly Lake (December 2017).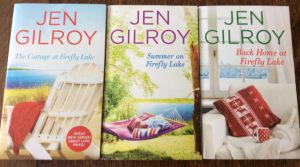 One of the big adjustments to becoming a published author was having to work on multiple books at different stages at the same time. More than once, I had to double-check to make sure which book was on the screen in front of me, and I resorted to Post-it note reminders to help keep the characters (and the book they "belonged in") straight in my head. 
Since my first publication day, there have been many wonderful moments in my writing life, most often associated with kind feedback from readers.
There was the never-to-be-forgotten moment of my first reader email, as well as the joy of connecting with readers online via social media.
There was giving a talk about my writing at a local library and signing copies of my books at bookstores.
I've also enjoyed participating in blog tours and connecting with many lovely reviewers and readers through guest posts and other activities.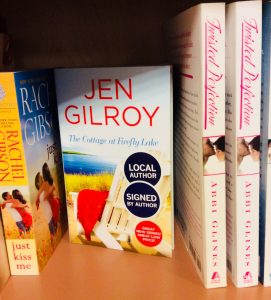 But for sheer shivers-down-the-spine excitement, I have to single out my first "shelfie"—seeing my book on a store shelf and taking a photo of it. As one of my favourite fictional heroines, "Anne of Green Gables" would say, it was "an epoch in my life." 
Most of all, this first year as a published author has been one of learning.
I've learned more about writing craft, particularly conveying emotion in fiction. And I've also learned about the business of writing and the publishing industry.
I've learned about friendship too and owe a huge debt of gratitude to my agent, Dawn Dowdle, and the writing friends whose steadfast support continue to help me navigate the author journey beyond initial publication.
And, not least, I've learned more about myself as both a person and a writer—what I value in life, how that shapes my fiction, and the kind of career I want to develop over time.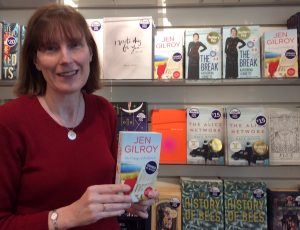 As I mark this first book anniversary, I'm looking back but also forward with new dreams, new goals, and new story ideas. 
Thanks to you, my readers and friends, for being part of my life and writing and connecting with me in both the real and virtual worlds. I'm grateful for all of you.