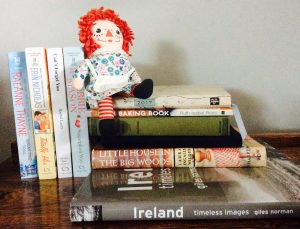 Confession time. To my husband's dismay, and as the teetering pile of books on my nightstand  attests, I'm the kind of person who reads multiple books at the same time, happily skipping from one to another as the mood takes me.
I'm also the kind of person who reads multiple genres and historical periods, again at the same time, tucking away inspiration and story nuggets like a squirrel burying nuts for winter.
Tech Guy is more methodical. When he finds an author whose books he enjoys, he will often read their entire backlist. He also prefers to read one genre at a time and rarely mixes fiction and non-fiction.
After more than twenty years together, we've learned to accept our differences in reading—as in life—although in the interests of marital harmony, it's lucky he doesn't have a view of all those to-be-read titles on my Kindle!
 Here's a sampling of how I'm feeding my soul with books on these dark November days—cozy slippers on my feet, Floppy Ears snuggled at my side in front of the fire, and a steaming mug of hot chocolate to hand.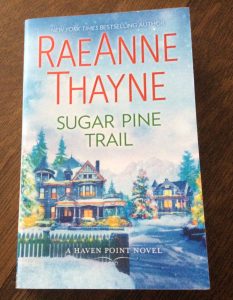 RaeAnne Thayne is one of my favourite contemporary romance authors and her new release, Sugar Pine Trail, is a treat. As a lover of libraries since childhood, how could I resist a librarian heroine?
Add a sexy but sweet and surprisingly vulnerable pilot hero, a magical small-town at Christmas, and two young boys who desperately need love and family, Sugar Pine Trail tugged at my heartstrings and was a timely reminder of the true meaning of the season.
Next up is a trio of books I just received from my publisher, Forever Romance: Sugarplum Way, a new release by my friend Debbie Mason; Totally His by Erin Nicholas; and an advance copy of Can't Forget You, out next month from Rachel Lacey.
Follow my Facebook page for giveaways with these authors coming soon! 
We visited Halifax, Nova Scotia, Canada this summer, and December marks the 100th anniversary of the Halifax explosion, a devastating First World War maritime disaster.
To learn more about this part of Canadian history, I'm reading my grandmother's copy of Barometer Rising by Hugh McClennan. First published in 1941, this "romantic realist" novel takes place in Halifax during that fateful week in 1917.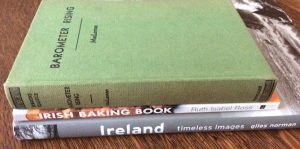 And because Ireland is one of my favourite places, I'm dipping into a book of black and white landscape photographs by Giles Norman, together with the Irish Baking Book.
The only problem with the latter? The descriptions of baked goods make me hungry and prone to snacking!
I've also raided my childhood bookcase to re-read Little House in the Big Woods, the first book in the beloved "Little House" series by Laura Ingalls Wilder and a long ago Christmas present from a dear cousin. 
When life feels grim and I need a comfort read, I spend a cozy hour with the Ingalls family in frontier America. I read these books differently now than I did as a child, but they never cease to give me hope, inspiration and encouragement when I need it.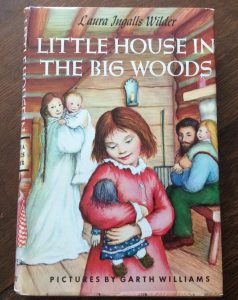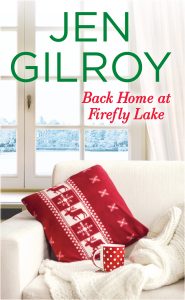 And if you're looking to add to your seasonal reading, the third book in my Firefly Lake trilogy, Back Home at Firefly Lake is out on December 5th (December 28th in the UK) and available for pre-order in mass market paperback and digital format from all major retailers (find the blurb and buy links on my website).
Happy reading, everyone! What book (or books) are keeping you company in these last months of 2017?