If you read my blog regularly, you know that I occasionally feature writer friends in a series called "Meet Me at the Diner." Today it's my pleasure to welcome Jennifer Wilck, a contemporary romance author with the Wild Rose Press.
I met Jennifer at the Romance Writers of America's national conference in New York City in 2015 and, since then, we've chatted via social media about writing, the challenges of raising teen girls and more.
Jennifer lives with her husband, two daughters and one canine fur baby in New Jersey where she writes stories with love, laughter and happily ever after.
I've recently read Jennifer's July 2017 release, Addicted to Love and am excited to talk with her about the inspiration for her book, as well as what's next.
Since some of Jennifer's stories reflect her Jewish heritage, I've made Pumpkin Chocolate Rugelach and Jewish apple cake for today's diner specials. They're perfect desserts for fall—or any other time!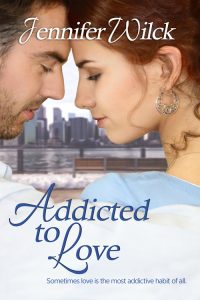 As we're chatting over (virtual) food, I have to tell you that reading Addicted to Love made me very hungry! Hotdogs from a street vendor, a melt-in-your-mouth artichoke appetizer, hamentaschen cookies on Purim and more, the story has many wonderful foodie references. Since food plays such a prominent role, did you include any personal or family favorites?   
Ha! It's funny because people either love that I include food in my stories or hate it. There doesn't seem to be a middle ground, so I'm glad you enjoyed it.
Yes, I typically include food that has special meaning to me in my stories. One of the meals I included in Addicted to Love is stuffed cabbage, a dish first made by my great-grandmother. She never actually had a recipe or specific measurements, and it was my mother's favorite.
One day, when my great-grandmother was fairly old, my mom had her make it. She watched her and every time my great-grandmother took a handful of this or a pinch of that, my mother would measure the amounts and record it. As a result, my mom now has the "official" recipe.
I love the relationships that are made over cooking and eating, which is why I so often include them in my books.
Those food-based relationships have been important in my life too, Jennifer, and I love the story of your great-grandmother's stuffed cabbage. I grew up in western Canada in an area with a large Ukrainian population and stuffed cabbage rolls, holubtsi, were a staple of community suppers. Happy and delicious memories!
In Addicted to Love, you tackle the painful subject of drug addiction with sensitivity and compassion. What inspired you to write about a topic that doesn't usually feature in romance novels? 
I really like the trope of the tortured hero. I like adding depth to my characters and examining how experiences from their past affect their future and their relationships.
With addiction, I was trying to play with the idea that you can be addicted to anything—from something serious like drugs, to something we all joke about like chocolate or shoes—and how sometimes, despite your best intentions, you can take "doing the right thing" too far.
Until I read your book, I hadn't thought about addiction in that way. Kudos to you for writing about such a complex and emotional subject in a way that makes readers think and, potentially, challenges pre-existing assumptions.     
Alongside the central romance, Addicted to Love is about family relationships—for example, between the hero and his teen daughter, and between the heroine and the grandmother with whom she lives. Were any aspects of these relationships drawn from your own experience?
While I never base a character completely off someone I know, I will often take pieces of someone's personality and incorporate them into my characters. I especially like to do this with the children.
So Tess, the hero's daughter, has mannerisms that my daughters have—like eye rolling, for example, or a particular manner of speech.
The grandmother has some personality traits of my mother and grandmother, although to say the grandmother is my mother would definitely be a stretch (sorry, Mom!).
I do the same when developing my fictional characters. Although she's an entirely different person, I certainly recognized bits of my daughter in Tess. Teen girl mannerisms must be universal!
There is a strong sense of place in Addicted to Love, and the New York City/New Jersey setting gives the story an urban, cosmopolitan feel that is a refreshing change from the contemporary romances I usually read—ones set in small towns or rural areas.
Do you write what you know?
 It's funny because I love reading small-town romances—one of the reasons why I love your books—but my Jewish books seem to set themselves in cities naturally.
It could be because that's what I know personally or maybe because my characters and their traits—snappy dialogue, for example—lend themselves better to cities. There's a fast-paced energy that comes with city living.
I'm so glad you enjoy the small-town world of my books but yes, I can see why your characters are more "at home" in cities. Although I've only been to New York City once, in different parts of your book I found myself nodding in recognition. I also liked that your characters took taxis frequently whereas for mine, the vehicle of choice is a pick-up truck! 
The hero and heroine of Addicted to Love, Dan Rothberg and Hannah Cohen are Jewish, and while their romance and the challenges they overcome transcend religion and culture, I enjoyed learning more about Jewish traditions and holidays and reading about diverse characters.
How has your Jewish identity influenced your writing life?
Again, while I love reading Christmas books and romances where the characters get married in a church, there's a lot to be said for being able to identify with the characters. I think diversity is another way of adding depth to characters.
I've also found readers like to learn about traditions that aren't their own. My goal was to put the culture in the background, so I'm not hitting anyone over the head with it, but it weaves itself into the story seamlessly.
For me as a reader, you wove those cultural references in so well. In an era when we very much need diverse romance, and often improved cross-cultural communication and understanding, your books make an important contribution.
Since Addicted to Love released in July 2017, you had another new book, In the Moment, come out in early September. Can you tell us about it?
Sure! This one is actually set in a small town and is based on a local Victorian mansion that my daughters and I toured when it was up for sale. We all fell in love with it, but couldn't afford to buy it.
The house spoke to me and I could imagine the people who lived there in the past and how amazing it would be to be able to live there now. So I decided to set my book there.
Cassie, the heroine, is a former foster child who grew up in that house as a teen. When her foster mother died, she bought the house and is restoring it, with the intent of living there and raising a family there. To her, the house represents stability.
Rayne, the hero, is a war photographer who can't handle permanence right now—his friends were killed in the war and he's on a mission to deliver a photo he took to one of the soldier's parents. He blames himself for what happened to the soldiers and is afraid to cause any more damage to anyone else.
He's passing through Cassie's town on the way to deliver the photo and agrees to help her out with the house for a short time.
And the rest, well, you'll have to read the book.  🙂 
In the Moment is on my reading list, Jennifer! I also love old houses and the stories they tell so your book intrigues me.
Addicted to Love is "Serendipity, Book 1." The second book in the series, Five Minutes to Love, comes out in Spring 2018. What is it about? Will familiar characters from the first book reappear?
I'm currently in developmental edits with this one. It features Hannah's best friend Aviva and her boyfriend Jacob and tells the story of how they met. So it actually takes place a little before Addicted to Love.
The title, Five Minutes to Love, comes from their first meeting—they are both coerced into participating in a speed-dating event, and they both escape from it together.
Aviva has no interest in a relationship with a law student—her dad is a lawyer and spends all his time at work.
Jacob is planning on being a high-powered lawyer so he can pay off his law school loans and take care of his mom and isn't sure how a girlfriend can fit into his limited time. But being a good guy, he does his best and, well, that should give you at least a little to go on.
Good luck with your edits. I look forward to seeing Five Minutes to Love on virtual shelves soon!
Thanks so much for joining me, Jennifer. I enjoyed chatting with you and am glad we connected that day in New York…also over food!
I've really enjoyed getting to know you, Jen. Thanks so much for having me as a guest on your blog.
You're most welcome!
Here's the blurb for Addicted to Love
Dan Rothberg struggled after an accident killed his wife and he nearly lost custody of his daughter. He can no longer allow himself to get attached to anything or anyone. Until he meets Hannah.
Hannah Cohen is a young executive with a meddlesome grandmother and a troubled brother. She'd like nothing better than to find her own Mr. Right, after too many Mr. Wrongs. A sexy older man with a teenage daughter was never in her plans.
As they navigate their relationship through adolescent attitudes and grandmotherly interference, they realize age is just a number and love can be right in front of them. But when the terrible truth of Dan's former struggles is exposed, Hannah must decide if she can get past his deception and allow love to conquer all.
Buy Addicted to Love in e-book format or paperback from the following sites:
The Wild Rose Press 
Amazon US 
Amazon UK
Amazon Canada 
Barnes & Noble 
Kobo 
Chapters-Indigo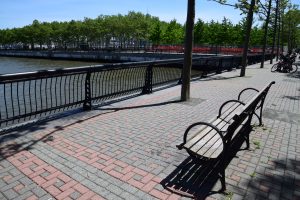 You can connect with Jennifer via her website, and on Facebook, Twitter and Pinterest. She blogs regularly via her personal blog (Fried Oreos) and also contributes to a group blog, Heroines with Hearts.
Website
Facebook 
Twitter 
Blog 
Pinterest 
Heroines with Hearts