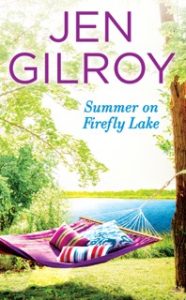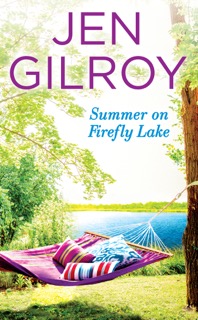 The second book in my Firefly Lake series, Summer on Firefly Lake, was published this week. It's the sequel to The Cottage at Firefly Lake and, although connected by the setting and some recurring characters, each book also stands alone.
In Summer on Firefly Lake, Mia, the heroine, is recovering from a painful divorce and moves to Firefly Lake, Vermont with her two daughters to put her life back together. She doesn't expect to fall for her friend, and one-time teenage crush, Nick McGuire. However, during one special summer, Mia and Nick learn that the life you think you want may not be the one you really need.
I fell in love with Mia and Nick when I was writing their story and hope readers do too. It's also a book with a secondary romance, and I delighted in giving Nick's mom, a woman in her sixties, her very own happy ending.
There are children, a dog (or two), interfering family, and, of course, a small-town community that's caring, but where your private life often isn't so private. 
To celebrate my book release, I'm sharing the top 3 things that make this book special to me, along with some scene snippets. There's a giveaway exclusive to blog subscribers, too.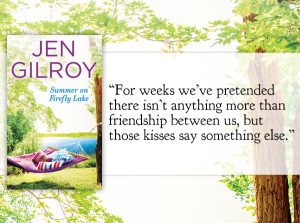 Healing and transformation
Summer on Firefly Lake is about the healing power of love, as well as family, friendship and community. Through the course of the story all the characters—and not only the hero and heroine—experience some kind of transformation and become the people they were meant to be.
For Mia, the heroine, it's a journey toward independence. She has her own home, her own job and, for the first time in her life, she's determined to stop the self-doubt and stand on her own two feet and be a mother her daughters can be proud of.
"…the name Mia had answered to for almost seventeen years was all of a sudden wrong. Like the pair of pointy black shoes that pinched, but she'd kept anyway…"
For Nick, the hero, the journey is one of finding somewhere he truly belongs.
"Mia had him wound up in a way he never got wound up. She made him think about things he'd avoided for years. Like a home, a family, and a dog."
The place
Setting looms large in all my writing and in Summer on Firefly Lake, the fictional small Vermont lake town is almost a separate character. Here, we see it through the heroine's eyes, from a house and gardens I'd like myself. 
"Mia looked out the French doors at the terraced gardens surrounding the stately Victorian perched high above Firefly Lake. The small town was spread out below, and the spire of the Episcopal church rose out of the trees near the town green. A patchwork of rooftops sloped toward the gentle scoop in the lake from which Harbor House took its name. The whole scene was encircled by the rolling Vermont hills, which made her feel safe and protected in this little corner of the Northeast Kingdom."
When fiction imitates real life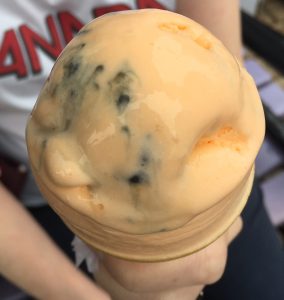 From the heroine's favorite childhood ice cream (tiger tail, orange with a black licorice swirl) to the "Cowboy cookies" she bakes for her children, to her collection of vintage blue glass bottles, there are numerous echoes of some of my favourite things in Summer on Firefly Lake.
This book was also influenced by the small-town roots that have shaped my life and fiction (as I wrote about in a guest post for Broken Teepee earlier this month). 
The following snippet comes from a conversation between the hero and an older family friend at the local diner and describes how she stopped his gossipy great-aunt  in her tracks. It's drawn from a conversation I once overhead and noted down. For writers, literary inspiration is everywhere!
"I mentioned I knew all the beds her shoes have been under."
"Great-aunt Bernice?" Nick's mouth fell open. Bernice was over eighty, favored fussy floral prints and sensible shoes, and had been widowed as long as he could remember.
"You think she's too old?" Liz poked Nick's chin with a forefinger and closed his mouth. "We women have needs, and there are lots of lonely and able widowers in this town."
Giveaways
As a thank you to my blog subscribers, one lucky winner will receive a signed paperback of Summer on Firefly Lake, and a summer-themed bookmark. You're already entered by being on my e-mail list.*

I've also teamed up with Barclay Publicity for a two-week blog tour to celebrate this release, and there's a giveaway to enter at each tour stop with a chance to win print copies of my books, as well as an Amazon gift card. Check out the details here.

Here's the blurb for Summer on Firefly Lake
Sometimes love is better the second time around.
Mia Gibbs spent her marriage putting her husband's needs before her own. And now, after a painful divorce, she's building a new life for herself and her two daughters back home at Firefly Lake. The last thing she needs is a man to complicate things. But former bad boy turned friend Nick McGuire has turned everything upside down.
Attorney Nick McGuire wasn't meant to be a family man. His career has always been his focus, and after taking time out to help his mother, he's ready to get back to the city…until Mia and her daughters arrive at Firefly Lake. Mia is beautiful and intriguing, and it doesn't take long to realize being "just friends" will never be enough. As the summer nights turn colder, Nick will have to choose between the life he's always wanted…and the woman he can't live without.
All quoted excerpts copyright © Summer on Firefly Lake 2017 by Jen Gilroy
*This giveaway has ended & the winner has been notified (2 August 2017). 
Buy links
Amazon US 
Amazon UK
Amazon Canada
B&N
Chapters-Indigo
iBooks 
Kobo 
Google Play