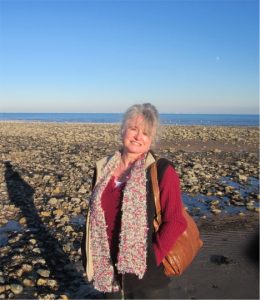 In this occasional series on my blog, I'm chatting with my friend Susanna Bavin, whose debut novel, The Deserter's Daughter, was published on June 22nd.
Susanna and I are both members of the Romantic Novelists' Association (RNA) in the UK. We met via Twitter and haven't stopped emailing since! She's a dear and supportive friend and I wouldn't want to be on this writing journey without her. Susanna lives by the sea in North Wales with her husband and their two rescue cats, Alf and Cassie.
I'm delighted to have her here with me today. In honour of my English guest, I've made my favourite Victoria sponge cake (a traditional British cake made of two layers of sponge cake sandwiched together with jam and cream), and the teapot is steeping with Yorkshire tea. Fab baker that she is, Susanna hasn't come empty handed and has brought us Eccles cakes (flaky pastry filled with currants and a touch of cinnamon), as a nod to her North of England roots.
Thank you for inviting me, Jen. It's such a pleasure to be here.
I'm so pleased to have you here, Susanna, and congratulations on your debut release. I'm partway through reading The Deserter's Daughter and it's such a wonderful book—absorbing and emotional with believable characters, unexpected twists and a compelling sense of place and time.
Several years ago, you and your husband made a big life change and moved to the Welsh seaside, a place where you'd always wanted to live. How has pursuing a dream changed your life?
Moving to Llandudno in beautiful North Wales was a dream come true for me. It is where I had wanted to live ever since I was a child coming here for holidays every summer. Llandudno was Dad's favourite place too; and Mum loved it as well and used to talk about moving here. They both passed away some years ago, but in a funny way, living here has made me feel closer to them, because I know what a special place it was in their lives.
How has life changed? Well, back in England we used to get up early, sit in traffic jams, work long hours… you know the sort of thing.
 I do indeed!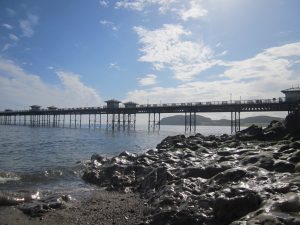 Coming to Llandudno meant that all those pressures, which we hadn't even realized were pressures, lifted. The pace of life is wonderfully relaxed here, even though the local people work hard to make this a successful holiday place. Llandudno has long been known as the Queen of Welsh Resorts. I look at the people here on holiday and say to myself, "They're going home at the end of the week, but we'll still be here." We've lived here since 2013 and we still have that "Wow! We really live here," feeling. We're so lucky.
Although I've been to Wales, I've never visited Llandudno. Hopefully I'll be able to see your lovely home for myself one day, not only in the gorgeous pictures you post on social media. Since I also live in the place I've wanted to since childhood (in an area that was special to my mum), I understand what you mean when you say that living where you do makes you feel closer to your parents. Especially after we lose our parents, those ties become even more meaningful.
Turning to your book, you write sagas, a much beloved sub-genre for British readers of romance and women's fiction. Since "the saga" may not be as familiar to some of my North American readers, can you give us a brief introduction? 
I think your North American readers would find many aspects of the saga very familiar. The saga is, as you say, part of the romance/women's market and as such it deals, above all else, with relationships–what binds families together and what blows them apart; the exploration of friendship and other relationships; and, of course, love and romance. Generally, a saga will have various sub-plots to add further depth and tension to the story.
Sagas have an historical setting, so the reader joins the heroine as she tackles and gradually overcomes her troubles within the social and legal context of the day. Naturally, this means she is plagued by all kinds of problems that a modern heroine wouldn't have to deal with. For me, both as a reader and as a writer, this is the most fascinating aspect of the story to explore.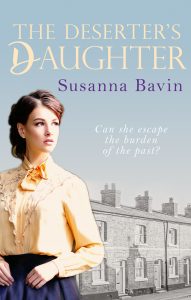 And you do this so well in The Deserter's Daughter. For example, before reading your book, I wasn't aware that cleaning the doorstep with a donkey stone (a type of scouring block used to clean stone steps) was a domestic task stratified along class lines. When your heroine, Carrie, marries "up" the social scale, her new husband rebukes her saying "my wife doesn't demean herself or shame me by cleaning the doorstep."
What do you think is the biggest difference between a British saga and an American historical?
I imagine it's the class structure. Usually, a saga has a working-class background–that is, low-paid people working long hours and living in poor housing.
In The Deserter's Daughter, Carrie and Evadne's mother married twice and the girls have different fathers from different class backgrounds. Evadne's father was from a solid middle-class family, not hugely rich but comfortably off, and Evadne yearns to return to the privileged world she remembers from childhood. Carrie, on the other hand, is the daughter of a working man and has a simpler view of what she can expect from life.
I agree with you. Although the American historical often has a class dimension, the British class structure as manifested in the saga genre has a much different feel. 
You grew up in Manchester in England and The Deserter's Daughter is set there. How have your Mancunian roots and related sense of place shaped your writing?
The setting for The Deserter's Daughter is a part of Manchester called Chorlton-cum-Hardy, which is where I grew up. When people think of Manchester, they imagine a vibrant city with all its wonderful architecture and people and traffic; but Chorlton is on the very edge of Manchester and 100 years ago it was a small, quiet township. Chorlton borders the River Mersey and even today there are miles of meadowland alongside the river.
Setting The Deserter's Daughter in my native Chorlton felt a natural thing to do. It is where several generations of my family grew up and I feel a strong link to it. I think that setting my book there has given it a "small town" feeling, which I as a reader enjoy, and which I hope will make my book appealing to others. One of the features of The Cottage at Firefly Lake that I particularly enjoyed was the sense of closeness and community that you conveyed. I think many of us would like to live in a place like that.
Another feature of the saga is the importance of having a strong sense of place. Sagas are also called "regional sagas," because they are inextricably linked to the area where they are set and successful saga authors are known for writing about a particular area of the country.
I'm glad you enjoyed the sense of community in The Cottage at Firefly Lake, and I hadn't thought about links between the sense of place and community that characterize sagas and the contemporary small town stories that are popular in North American romance and women's fiction. That sense of place in the Chorlton of your book is so compelling.  As a reader, I feel as if I'm walking the same streets as your characters, right down to the "pea-souped" fog.
It's a week since publication of The Deserter's Daughter. For me, seeing my name on the cover of a published book was a dream come true. How did you celebrate this milestone in your life and writing journey?
It has been such a wonderful week. I have been bowled over by all the kindness and support I have received, not just in the past few days but also in the build-up to publication in the preceding weeks.
Publication day itself was delightful from start to finish. We held an afternoon tea (very English!) for friends in the beautiful Imperial Hotel on Llandudno's sea-front, with my husband, who is a musician, providing musical accompaniment, playing popular songs from the 1920s through to the 1990s.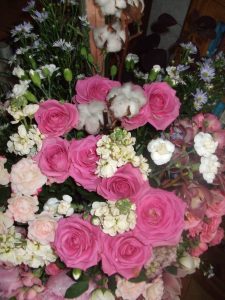 My friends surprised me with a glorious floral arrangement in my favourite colours, incorporating an S in pink roses; some "flowers" made of cotton-wool (Manchester used to be famous for its cotton-mills); and the whole arrangement was in an authentic 1920s mixing bowl, for my 1920s story. You can imagine how overwhelmed I was.
My lasting memory of publication day will be the kindness and generosity, not just of my friends in the "real" world, but also of the many people who have supported me on social media.
I was delighted to share in your publication day, virtually. And that floral arrangement is stunning. Thank you for sharing a picture so my readers can enjoy it too. Pink is also one of my favourite colours!
In North America, many novels are published in eBook these days and sometimes there is a paperback version too, but The Deserter's Daughter is appearing as a hardback first (as well as an eBook for Amazon Kindle).
That's right. It feels such a privilege to have a book published in hardback, though at the same time I am aware that this makes it expensive for many readers to purchase. I hope lots of people will request The Deserter's Daughter from their local public libraries. Coming from a family of lifelong library-users, and speaking as a former librarian, it makes me feel immensely proud to think of my book–my book!–being on public library shelves.
In the UK, the hardback and eBook were released on the same day. In the US and Canada, and other parts of the English-speaking world, the eBook came out on June 22nd, with the hardback following early in September. And the paperback will follow in a few months.
I am also delighted that The Deserter's Daughter is going to be an audiobook and a large print book. One of my family members was blind and another was visually impaired, so I do appreciate how important it is to make books as accessible as possible. Also–I adore listening to audiobooks! I always have one on the go.
I'm requesting The Deserter's Daughter at my local library. And yes, seeing my book in libraries is such a thrill! I'm happy you're experiencing that feeling too.
After the excitement of publication, what comes next? I know you're busy writing another saga for your publisher.
Yes, I have a 2-book deal with Allison & Busby (a leading independent publisher based in London) and my second book will be another 1920s family saga, set in Manchester. 
It is about a young mother in Lancashire, a county in the far north of England, who discovers that her husband has been leading a double life, so she leaves him and starts again in Manchester. There are plenty of twists and turns, as well as a court case that I hope readers will find gripping.
It sounds intriguing and I'm looking forward to reading it. Thanks again for joining me here today, Susanna, and bringing baking, too. Eccles cakes are Tech Guy's favourite so I've sneakily set one aside for him!  
Many thanks for inviting me, Jen. I've loved chatting with you. I hope some of your North American blog-visitors will fancy trying a good old British saga!
Here's the blurb for The Deserter's Daughter
1920, Chorlton, Manchester.
As her wedding day approaches, Carrie Jenkins is trying on her dress and eagerly anticipating becoming Mrs Billy Shipton. But all too soon she is reeling from the news that her beloved pa was shot for desertion during the Great War. When Carrie is jilted and the close-knit community turns its back on her, her half-sister Evadne and their mother, the plans Carrie nurtured are destroyed.
Desperate to overcome her private troubles as well as the public humiliation, Carrie accepts the unsettling advances of the well-to-do antiques dealer, Ralph Armstrong. Through Ralph, Evadne meets the aristocratic Alex Larter, who seems to be the answer to her matrimonial ambitions.
But the sisters have chosen men who are not to be trusted and they must face physical danger and personal heartache before they can find the happiness they deserve.
Connect with Susanna via her website, follow her on Twitter or friend her on Facebook.
If you'd like to buy a copy of The Deserter's Daughter or request it at your library (an easy way to support any author whose books you enjoy), details are on all the Amazon platforms including Amazon.com and Amazon UK.