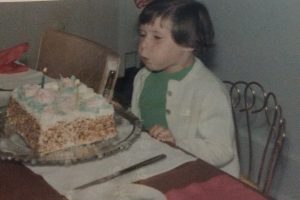 We had a trio of birthdays in my family this week. My mother-in-law, a cousin and my own.
As English Rose remarked with all the sensitivity of an almost teen, I'm getting "old." When I raised an eyebrow, she quickly amended it to "older" but the message was clear. From her vantage point, I am "old," and this picture of me blowing out the candles on my fourth birthday cake verges on archival.
Although I've had mixed feelings about past birthdays, this year my perspective is different. Having had some health issues, this birthday was a gift. More than ever, it was a time to celebrate and be grateful for what the years have brought, and to look to the future with hope and optimism.
My mother always made birthdays special. If I celebrated at home, there was usually a fabulous homemade cake. One year, the design even replicated the family dog. If we were on holiday, I had a bakery cake with my favourite iced pink roses.
I often celebrated with a cousin whose birthday is the day after mine. Although geography has precluded us sharing our birthdays in many years, happy memories of those joint celebrations have a special place in my heart.
In my family, birthdays are about tradition and continuity. The china "birthday train" my grandmother gave me for my first birthday still comes out for my birthday supper, and the little animals I loved as a child still make me smile.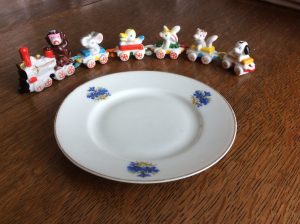 I also have a "birthday plate" used by my dad on his first birthday and then passed to me. From a small town in western Canada, that plate has travelled many miles and has seen many birthday parties. It's now into its third generation with English Rose and, I hope, will someday be used by her children too.
Although my birthday has lost the excited lustre it once had, the same anticipation I now see in English Rose as she counts off each quarter of the year as it brings her closer to her special day, it's still a day to celebrate.
Like grey hairs, smile lines and back pain, birthday cake, presents and balloons may indeed be a reminder of the passing of time. However, the alternative, not being here to celebrate my birthday, isn't something I want to imagine!