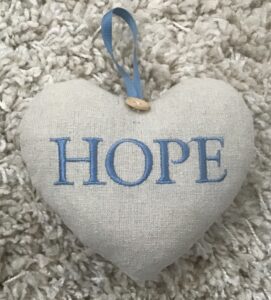 When I chose 'hope' as 'my word' for 2023, I had no idea how relevant it would be.
However, I also didn't anticipate the challenges of living my life with hope throughout a succession of difficult months.
On X (formerly Twitter) recently, another author asked (paraphrasing) if anyone else felt an imminent sense of "doom."
Judging by the replies, I'm not alone in feeling more anxious than usual.
Even a cursory glance at the daily news headlines is an exercise in doomscrolling with little to no uplifting content.
And in my own life, this year so far has been tough.
From personal and family upheaval to writing turmoil and the full force of Murphy's Law (anything that can go wrong will), it's been far from smooth sailing.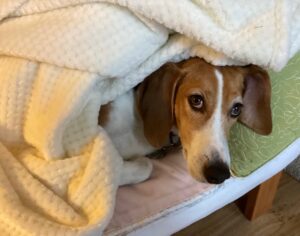 Like Floppy Ears on a cold morning, I often want to burrow under a blanket and stay there!
Yet, guided by hope, I've found encouragement from unexpected sources, moved forward by taking small steps and learned not to underestimate the power of a hopeful outlook.
All these have helped me find blessings amongst chaos and inspiration, including from those who've gone before me, via stories of struggle, courage, resilience and resourcefulness.
However, and along with world news, this week has been especially grim.
With painful tendinitis (tendonitis) in my left (dominant) arm, I'm on a book deadline but can only write for a limited time and solely by wearing an arm brace.
I have more than my usual mum-life worries for English Rose at university.
Floppy Ears has a persistent ear infection, the car trunk (boot) latch broke, and a specialist medical referral I'd counted on was declined.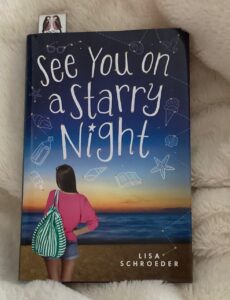 Yet, reading Lisa Schroeder's See You on a Starry Night, a 2018 middle grade story about the power and magic of friendship, has given me reassurance and hope.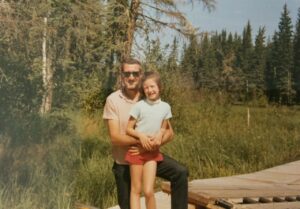 Several references to "everything working out in the end" were a poignant reminder of my late dad.
Since that was one of his oft-repeated phrases, for a moment, on the cusp of what would have been his birthday, I felt his presence and familiar love and care.
Coincidence, perhaps, but I prefer to think it was more a sign of hope when I needed one.
For other hopeful reading, check out this list from the UK edition of Good Housekeeping.
To quote American romance author Susan Elizabeth Phillips, "Life's too short to read depressing books!" And as she also says at the end of her author bio, "Now go hug someone special."
While we can't solve the world's problems, a hug can give solace in hard times. So from me to you, virtual hugs and hope as we continue on together.