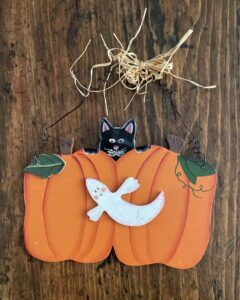 Soon, many of us will mark Halloween and Samhain, and this week I'm also celebrating the audiobook release of The Wishing Tree in Irish Falls, one of my sweet contemporary romances with magical elements.
As such, I've been thinking about psychic and other paranormal experiences—magic, rooted in myth or miraculous—that have shaped my life in ways I don't try to understand but welcome and accept.
A sixth sense or second sight
Second sight has a long heritage in parts of Scotland, Ireland and in my Celtic family too.
My grandmother and father often sensed events before they happened and perceived things impacting distant loved ones.
From half a continent away, my grandmother woke on a winter's night certain that my father, her son, then a young man serving in the Canadian navy, had been in an accident at sea.
Desperate for news, she called radio stations and military personnel, none of whom in that pre-internet era were yet aware that two vessels, one of which my dad was on, had just collided in Halifax harbour.
And although my dad was safely rescued from the icy Atlantic Ocean (if he hadn't been, I wouldn't be here), some of his friends weren't so fortunate.
Magic and miracles
The last time I saw her, in Canada several weeks before her death, that same grandmother, to whom I was very close, told me she'd always watch over me and be there when I needed her.
Fifteen years later, in the wake of traumatic life-saving surgery, I saw her at the foot of my British hospital bed. Amidst the bustle of medical staff and beeping machines, her familiar gentle smile wrapped me in love, comfort and support—both reassurance and reminder that magic and miracles are all around.
Myth and cultural traditions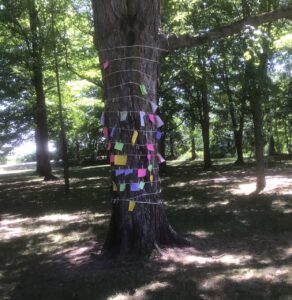 Magic, myth and the miraculous feature in my writing too, particularly The Wishing Tree in Irish Falls and A Wish in Irish Falls (both free in Amazon's Kindle Unlimited).
These sweet small-town romances (albeit a higher heat level than my Harlequin Heartwarming books) are set in a fictional Irish American small town in the Adirondack Mountains of New York State.
Irish Falls has a wishing tree, one that in Celtic and other cultural traditions people make offerings to believing their wishes will be granted.
In these stories, and with a bit of wishing tree magic, my characters don't always receive what they wish for but the happily ever after they need.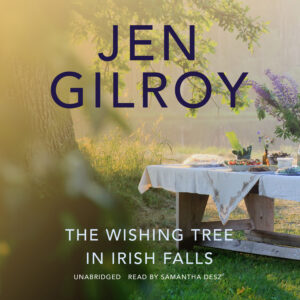 I'm delighted that The Wishing Tree in Irish Falls has just been released in audiobook by Blackstone Audio, with this gorgeous new cover too.
Narrated by Samantha Desz, it's available on Audible (free with an audible trial) and all other sites. Find out more (and listen to a snippet) here.
As for me? 
I'm blessed to have a bit of that familial sixth sense too and have learned to trust my instincts and inexplicable connection with the spirit world.
Last month, with English Rose eighty miles away at university, I told a sceptical Tech Guy that something was wrong with her.
When she later called to report she'd torn several ligaments in her ankle, I was (unsurprisingly to me) proven right.
Wishing you your own magical times, spiritual blessings and a happy 'spooky' month.