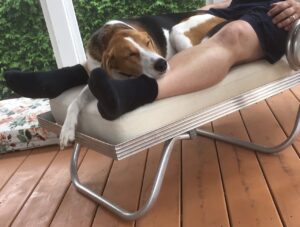 Some of us, like Tech Guy and Floppy Ears, can sleep anytime, anywhere.
That's not me.
However, in the past month, I've slept better than I have in years. While I may never be a consistently "good sleeper," I'm on track to becoming a "better" one.
Sleep restriction therapy
In May, when I had my first in-person appointment with my nurse practitioner (NP) post-pandemic, top of my list was sleep…or rather lack thereof. Having already tried a range of "sleep hygiene" remedies, I was desperate for help in falling asleep and waking up the next morning feeling if not refreshed at least more functional.
It was then my NP mentioned "sleep restriction therapy" offered by another NP at a nearby clinic.
I had nothing to lose and, potentially, everything to gain. In my foggy, sleep-deprived state, I said "sign me up."
The first appointments
At first, it seemed counter-intuitive to restrict my sleep to sleep better but I was determined to try.
I began to keep a sleep diary to track my sleep efficiency, the ratio of total sleep time to time in bed. And then I'm given a sleeping and waking plan to improve that efficiency.
Bed…but no books
The plan has been hard. Much harder than I anticipated.
For the initial ten days, I was more tired than ever.
I was too groggy to drive a car or ride my bicycle. I took Tech Guy with me when walking Floppy Ears in case I nodded off mid-route.
With no naps allowed after ten in the morning, I forced myself to stay awake until my appointed bedtime. No matter how tired I felt, I also forced myself out of bed at my designated waking time.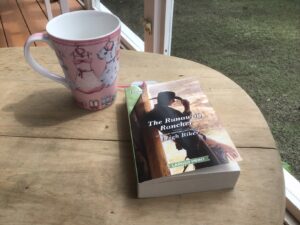 Perhaps most difficult was the ban on reading in bed and having to enjoy books elsewhere.
In this new regime, bed is only for sleep (or sex!).
Just breathe…
In parallel, I was also referred to four sessions of a one-hour weekly meditation group focused on breathing and relaxation.
Together with my ongoing sleep plan, it's helped, big time.
One breath, one night at a time
Six weeks in, my sleep efficiency score is much improved. I fall asleep more quickly and also stay asleep. Some mornings, I even feel, dare I say, "rested."
I still have "bad sleep" nights but they're fewer than before and meditative breathing helps.
Much like writing a 90,000 word book one word, one day at a time, when it comes to sleep I now focus on one breath, one night.
Although I'll likely always miss reading in bed, it's a small sacrifice for better rest and overall health.
And while I'm still "training" my family that reading elsewhere in the house doesn't mean I'm constantly interruptible, changing my sleep is changing my life in ways that are good for all of us.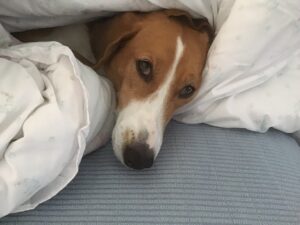 As for Floppy Ears? Her life—and sleep—are unchanged. We do, however, need to work on what she uses beds for, especially ones that aren't hers!