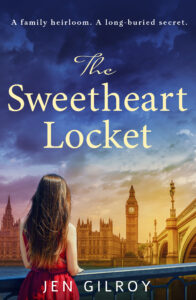 As part of The Sweetheart Locket blog tour with Rachel's Random Resources in June and July 2022, I was delighted to write a special guest post, 'Past, present and writing women's stories,' for The Magic of Wor(l)ds blog.
Although my guest blog is no longer live on The Magic of Wor(l)ds, read it here instead. 
As both reader and writer, the fiction that appeals to me most focuses on women's lives and relationships. In The Sweetheart Locket, from England and France in the Second World War to San Francisco 2019, I explore the lives, loves and losses of two different women connected through a British Royal Air Force (RAF) sweetheart locket.
During both World Wars, men serving in the armed forces gave 'sweetheart jewellery'—brooches, lockets and bracelets—to women at home. In my story, a sweetheart locket crosses the two timelines and connects the heroine of the historical timeline, Maggie, with the contemporary heroine and granddaughter, Willow, that Maggie never met.
In telling both women's stories of love, loss and family secrets, The Sweetheart Locket is also about courage and hope, and everyday heroism and humanity.
In Second World War England and 2019, my main characters are at turning points in their lives.
In 1939, Maggie defies her Canadian family and stays in England to 'do her bit' for the war effort—a decision that has major repercussions for her own life as well as the lives of her daughter Millie and granddaughter Willow.
In 2019, Willow, a single mom to a grown daughter, is going to England for an extended work trip when a DNA test she took for fun yields unexpected results.
Are there secrets in Willow's family history and could Maggie's past be a clue to Willow's present?
Maggie and Willow face numerous challenges, Maggie especially in Britain's wartime Special Operations Executive (SOE) working as a secret agent in occupied France. Yet neither lose hope in a brighter future.
And whilst Maggie's wartime life is one of action and adventure, in the contemporary story Willow, determined to discover what her gran did in the war, finds a different kind of courage to rebuild complicated family relationships and, in her forties, rediscover who she is and pursue dreams she'd once set aside.
While the characters I write about are fictional, an historical story like The Sweetheart Locket is shaped by real women's lives and experiences.
As I write past and present in books with happy and uplifting endings guaranteed, I also hope that just as The Sweetheart Locket offers escape and distraction, it's also an opportunity for readers to reflect on the lives of their own female family members and draw inspiration from their legacies.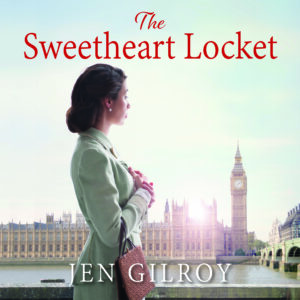 Women's history and women's lives aren't only about big sacrifices. Rather, in many cases the formal historical record overlooks women's stories, bravery and sacrifices. That's why in my historical stories particularly, I write about ordinary women caught up in often extraordinary circumstances.
If you choose to read or listen to The Sweetheart Locket (available in eBook, paperback and audio, including this audio library edition from Isis Soundings), I hope you enjoy it.
Our past shapes our present and our future because, and as Maggie reflects in The Sweetheart Locket, no matter what we face whether in the past or today: 
'Being brave [doesn't] mean you [aren't] afraid. You [do] what you [have] to despite the fear.'