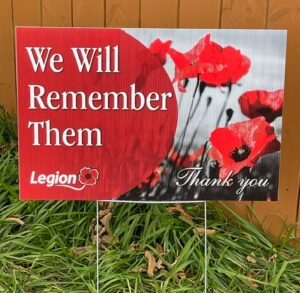 In many countries, the eleventh of November is a day to honour wartime sacrifice.
In Canada, it's Remembrance Day and here, as in the UK (known as Armistice Day) and elsewhere, there is a minute (or more) of silence at eleven in the morning to mark the armistice signifying the end of the First World War in 1918.
In the US, it's Veterans Day, honouring military veterans who have served in the United States Armed Forces.
And on the second Sunday in November, the UK also marks Remembrance Sunday to commemorate those who served in the British and Commonwealth military and civilian services in both World Wars and subsequent conflicts.
Remembering and honouring wartime sacrifice has always been part of my life.
At school, I wore a poppy and learned about wartime life through poetry and fiction, including Canadian John McCrae's celebrated First World War poem, 'In Flanders Fields.'
Although he rarely spoke of it, a neighbour and family friend served as a navigator on a wartime Lancaster Bomber—an experience at odds with the kindly man I knew as a mild-mannered accountant.
One grandmother remembered Canada's wartime 'jam for Britain campaign' and the other supported the Red Cross by knitting socks for soldiers.
And recently, I discovered that one of my high school teachers, a man who taught me Shakespeare and Dickens and encouraged my love of words, was a World War Two flying officer with the Royal Canadian Air Force.
In addition to his role as a bomb aimer, his wartime feats, for which at age ninety-five he was awarded a French Legion of Honour medal, included dropping supplies and secret agents into occupied France and supporting the 1944 D-Day invasion of Normandy.
However, until I moved to England, wartime life had always seemed distant.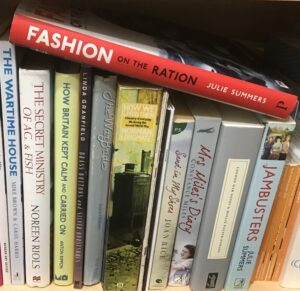 In England, though, the Second World War is a pivotal marker, even for those too young to remember it.
One of my older English cousins grew up with food rationing and spoke about it often.
The architecture of post-war England was also shaped by the war and an even older relative shared memories of air raids, pointing out where German bombing had once reduced a row of shops in her town to rubble.
And when English Rose was in primary (elementary) school, she and her classmates had a field trip to see a wartime Anderson shelter, still in the garden of a nearby house.
Now back in Canada, the Second World War remains part of my life because I'm writing about those years in several women's fiction novels.
I'll be able to share details of these books in coming months, but in telling such stories I'm also gaining a new and deeper appreciation of wartime sacrifice—by those who served in the armed forces as well as on the home front.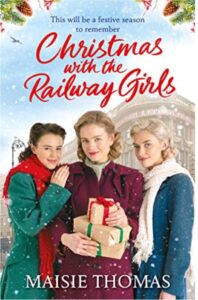 In the meantime, and if you're looking for wartime reading, Maisie Thomas, one of my favourite British historical fiction authors, has a new book out today.
Christmas with the Railway Girls is the next instalment in her fantastic Railway Girls series, set in Manchester, England and telling the story of women who worked on Britain's railways during the Second World War.
Available from Amazon & most other retailers (including UK supermarkets), these books bring the wartime world to life with intrigue, romance, female friendship and now, with this latest release, Christmas too.