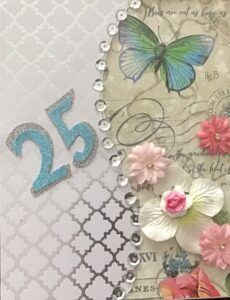 Last week, Tech Guy and I marked our twenty-fifth wedding anniversary. Over the years, we'd often thought about what our Silver anniversary would be like, a quarter-century milestone that then seemed very far away.
Yet, of all the scenarios we considered, we never imagined a twenty-fifth anniversary under Covid-lockdown with restaurants closed to in-person dining, and socializing with others beyond our household restricted outside and banned indoors.
Even before our anniversary day dawned cool and rainy, we'd decided that our celebration, like so many other things over the past sixteen months, would be put on hold. However, Tech Guy still planned a lovely surprise.
He knows I like chocolate cake.
He also remembers that on what was otherwise a wonderful wedding day, our cake got squashed in transit from the bakery to the reception venue so had to be strategically placed to conceal damage to each layer and a visible tilt to one side.
In addition, the vibrant frosting didn't match the more subdued shades we'd chosen to coordinate with our wedding colours.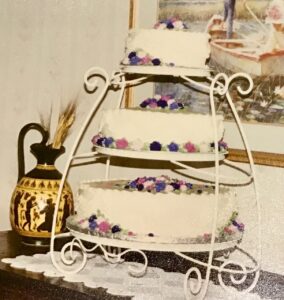 Over the years, that cake became a funny memory of our special day. We always said, though, that for our twenty-fifth anniversary we'd have a party with a new version of the cake we'd wanted all those years ago.
Owing to Covid, a party was out.
English Rose is finishing her last year of high school (online) so didn't have time to make us a cake. Although I like to bake, I have a repetitive strain injury (RSI) in my elbow/forearm so am currently banned from baking and various other things.
Undeterred, Tech Guy ordered a small cake from our local grocery's in-store bakery.
He requested a chocolate cake with white icing. He also asked for small pastel pink and lilac flowers with pale green leaves and the rest of the frosting in white.
And while we got some of those things, our anniversary cake had eerie similarities to the one twenty-five years before.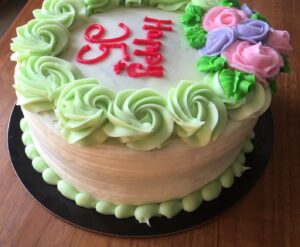 Owing to a problem with the cake's layers, it tilted to one side just as our wedding cake did.
The frosting also bore minimal relation to the requested colours, including green piping around the base that English Rose likened to mushy peas, often eaten with British fish and chips.
However, as we plan a delayed Silver anniversary celebration, including a little trip this autumn, we're also looking further ahead.
We hope that there are still Pearl, Ruby and Golden anniversaries to come—and many more chances for cake in between, including (post-pandemic) made by the friend who crafted the gorgeous cake for the party to celebrate my first book, The Cottage at Firefly Lake.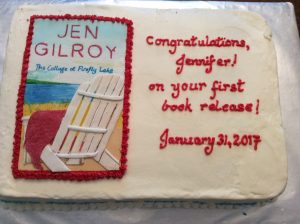 And despite all that has been hard and gone wrong in the past twenty-five years, beginning and ending with cake, other things have gone right and we've made our way through difficulties as a team.
Although it wasn't the Silver anniversary we once imagined, Tech Guy and I marked it together. For that, and so much more, I'm grateful.