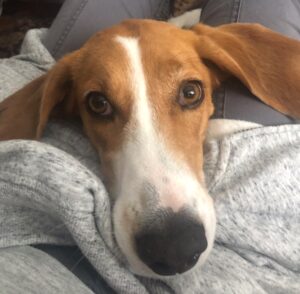 Floppy Ears, my much-loved rescue dog and "author assistant," has been a happy part of our family since April 2017.
However, after fifteen months of pandemic, including multiple lockdowns, stay-at-home orders, mask-wearing and avoiding others when out and about, as life has changed for everyone, Floppy Ears has changed too.
From happy hound
Pre-pandemic, Floppy Ears was a friend to all, greeting other dogs and people with a wagging tail and happy vocal "hello."
She was crate trained and had progressed to staying home alone for several hours outside her crate without chewing books, shoes or stray toothbrushes.
To Velcro dog
In recent months, however, and although still a loving family pet, our sweet Beagle-Walker Hound has become increasingly distrustful of both strangers and other dogs.
She hides behind me and growls when her now neighbourhood nemesis, a Chocolate Labrador, has the temerity (from her point of view) to be in the same vicinity on a walk.
She also growls at her reflection in the glass doors of a bookcase, not realizing it's her own face looking back at her.
And with Tech Guy, English Rose and I at home almost twenty-four seven, Floppy Ears can't relax unless she knows where each of us is at all times.
She stays especially near me and, on the rare occasions when I go out without her, she keeps watch by a window waiting for me to return.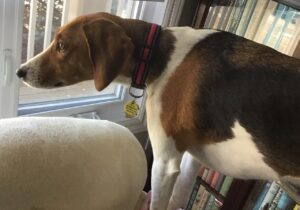 If she mistakenly assumes she's been left home alone, she voices her angst with mournful hound dog howls until I remind her I'm still nearby.
Reassurance…and retraining
Since Floppy Ears came to live with us, after being found in a small-town dump with no collar, tags or microchip, we've guessed at her history from anxious behaviours; for example, her inexplicable fear of dark-coloured pickup trucks and SUVs.
The pandemic, though, has meant she's become much more anxious and we now have what's called a "Velcro dog," one who needs to be close to their owners at all times.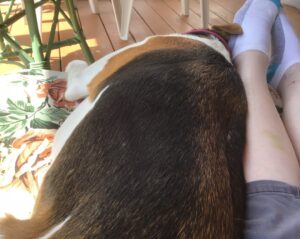 Since we're far from alone in this situation and, as post-vaccine, "normal life" finally beckons, there are multiple specialists offering tips for pandemic-traumatized dogs like ours.
When we're finally allowed to socialize outside our own household, Floppy Ears will have supervised play dates with a trusted canine friend.
On walks, we'll gradually desensitize her to people and other dogs, and once again work on leaving her home alone for short periods.
The Chocolate Labrador, though, may be her enemy for life.
Dogs have strong associative and episodic memory, and Mr. Chocolate Labrador lunged and growled at Floppy Ears first.
As such, and as long as they live near each other, when I spot him exiting his front door, or hear the telltale jingle of a collar from half a block away, I'll close our living room blind or redirect our walk.
Like with teenagers, some battles aren't worth fighting!