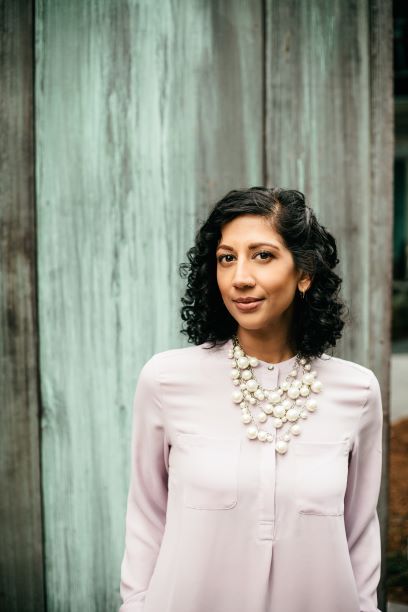 I don't often host guest authors on my blog, but this week I'm happy to be celebrating with a dear author friend, Anita Kushwaha, whose new women's fiction novel, Secret Lives of Mothers & Daughters is now out in Canada before releasing on February 18th in the US, UK, Australia & New Zealand.
Like me, Anita is Canadian and we live near each other in Eastern Ontario.
After meeting on social media via the Women's Fiction Writers Association, we've discovered we have much in common including attending the same university and studying in the same department.
We share a British connection too as Anita's husband is from England where I lived for many years.
I've brewed a pot of tea and have a plate of butter tarts, a favourite Canadian treat, to chat with Anita about her life, writing and new book which is now on my Kindle and next on my to-read list.
Tell us a little about yourself.
I'm a recovering academic whose former life involved conducting social and environmental research in the eastern Canadian Arctic.
I love reading, running, baking and napping with my cat, Noodles. I met my husband hiking the Inca Trail some fifteen years ago.
I've wanted to be a writer since I was a child, but it wasn't until I met my husband, who showed infinite faith in me, that I started believing I should take a chance and go for it. The saying about how the faith of one person can change your life rings true.
As you know, I'm a cat lover too and enjoy seeing pictures of sweet Noodles. We also share that childhood dream of becoming a writer.
What's the premise of your new book, Secret Lives of Mothers & Daughters?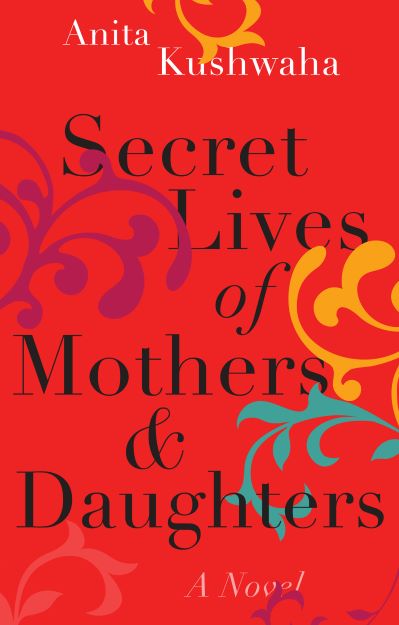 Secret Lives of Mothers & Daughters is a mother-daughter story told in alternating timelines, that of Asha and Mala.
The story begins with the revelation that Asha's parents have kept the truth about her adoption a secret for her entire life. But why?
As Asha is thrust on a journey of self-discovery, the reader is introduced to Mala, and the choices and secrets that end up shaping both their lives.
More broadly, the book is about the ties that bind mothers and daughters together, and the secrets that tear them apart.
I'm fascinated by the complexity of mother-daughter relationships, for instance, why we place such high expectations on each other and the cost of those expectations. My characters often grapple with the pressure of being "good daughters," which can make living authentically a challenge as they try their best to fulfill that role.
I hope the book sparks conversations around choice, the importance of living in accordance with one's inner truth, and women's mental health.
Those mother-daughter relationships fascinate me too. I think many women, me included, can relate to that "pressure of being good daughters" whilst also trying to be true ourselves.
Secret Lives of Mothers & Daughters also sounds like an excellent book club read and I'll be happy to recommend it to my club as a title for us to consider.
What inspired you to write it?
I knew I would write a book having to do with arranged marriage someday because growing up in a small town, it was one of the characteristics that distinguished the origins of my family from that of those around me, and was often misunderstood, which at times became a source of shame for me and made me feel like our family was somehow less authentic than those around us.
In writing the book, I wanted to explore the idea that all relationships, regardless of their origins, are arrangements of one sort or another, with their own particular advantages and disadvantages, freedoms and constraints.
The other themes that I wanted to explore in the book are those that seem to make their way into my writing—immigrant experiences, intergenerational conflict, the consequences of silence, identity, belonging, and mental health examined through a cultural lens.
I also knew I'd write a tragic love story someday, and wanted to give a nod to my love of Victorian novels, especially the works of the Brontes, hence the influence of Jane Eyre in the book, which also speaks to another subtle theme, that is, the ability of fiction to connect people through time.
For me, your voice, that of a woman from an immigrant family, makes an important contribution to Canadian literature, as well women's fiction and diverse (#ownvoices) books more generally.
And how interesting that this story was also influenced by Victorian novels and Jane Eyre in particular. As another fan of Victorian fiction, I'll keep that connection in mind as I read.
What authors do you admire and/or have influenced your development as a writer? Please feel free to add specific books, my readers and I love recommendations!
I read widely across genres, and many authors have influenced me, but I'll mention a few key ones here.
I grew up in a small town in the Canadian province of Quebec, raised on books that didn't reflect me or the experiences of my immigrant family. The consequence was that it limited what I thought I could be, and which stories mattered.
When I was nineteen or twenty, I read "Interpreter of Maladies" by Jhumpa Lahiri. That collection of short stories changed everything for me. I'll never forget the nuances of South Asian family life in those stories, some of which brought tears to my eyes, because finally it was there, it was seen.
I started to believe that not only could I write from my perspective, but there might also be someone out there willing to read what I had to offer, someone who might need the stories as much as I did back then, and always will. I suppose that's why writing for me is an act of place-making. You can carve out a place for yourself with a book. You can inject your voice where it was previously dismissed, minimized, ignored.
I call Margaret Atwood my High Priestess – reading her has always felt like taking a masterclass to me. When I read her work, I need to have a notebook beside me, because her creativity sparks creativity in me. She also reminds me write bravely.
I've recently completed Elena Ferrante's Neapolitan Quartet and was blown away by her mastery at weaving together the personal and political. Her work has deeply influenced my current WIP.
I also grew up reading a lot of Victorian femlit and love the Brontes. Hence the nod to Jane Eyre in Secret Lives of Mothers & Daughters.
Some books I've read within the past few years that I thought were brilliant are: All The Light We Cannot See by Anthony Doerr, A Little Life by Hanya Yanagihara, The Nightingale by Kristin Hannah, Swing Time by Zadie Smith, Washington Black by Esi Edugyan, Eleanor Oliphant is Completely Fine by Gail Honeyman, Home Fire by Kamila Shamsie, The Power by Naomi Alderman, Dual Citizens by Alix Ohlin, Motherhood by Sheila Heti.
Auto-buy authors for me would be Zadie Smith, Jhumpa Lahiri, Margaret Atwood, Esi Edugyan, Elena Ferrante, Kamila Shamsie—I always want to know what these writers are thinking about and have to say.
Thank you for sharing those aspects of your experience as a reader and writer with us.
I'm especially struck by what you said about "writing…is an act of place-making" for you. That's so important and speaks to the need for more diverse fiction and voices to help us all "see" and understand those who have been "dismissed, minimized [and] ignored."
As a reader, I love books that take me out of my own experience and help me see the world and people in new ways and your stories are part of that.
Thank you for those book recommendations too. Some are already on my shelves (and I'm especially happy for that shout-out to Canadian author Margaret Atwood), but you've added others to my TBR list!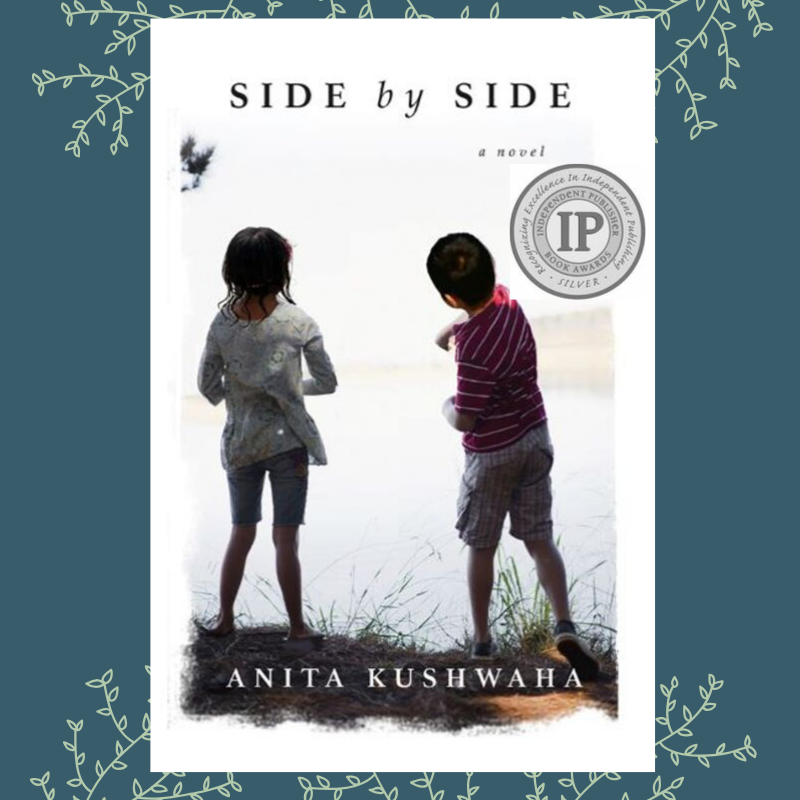 And echoing something you said earlier, as one of your readers, I'm very glad your husband encouraged you to "take a chance" on writing and tell your own stories.
Your previous book, Side by Side (an IPPY Award Silver Medalist for Multicultural Fiction) was one of the most emotionally gripping books I read last year.

What are you working on now?
I'm currently working on a sisterhood story, more bitter than sweet, inspired by The Blind Assassin by Margaret Atwood and Elena Ferrante's Neapolitan novels. Lots of complex family dynamics and secrets, also in keeping in with my interest in exploring issues of identity, belonging, immigrant experiences, and the lives of South Asian women.
What excites me about the project is having another opportunity to explore the complexity of female relationships and family life. Endlessly fascinating topics to me.
As both a reader and writer, they're "endlessly fascinating topics to me" too, Anita, and I'm looking forward to read your "sisterhood story" in due course.
Thank you so much for joining me to chat about your life and new book. I wish you much success with Secret Lives of Mothers & Daughters.
I'm also happy that you're a part of my life and writing journey.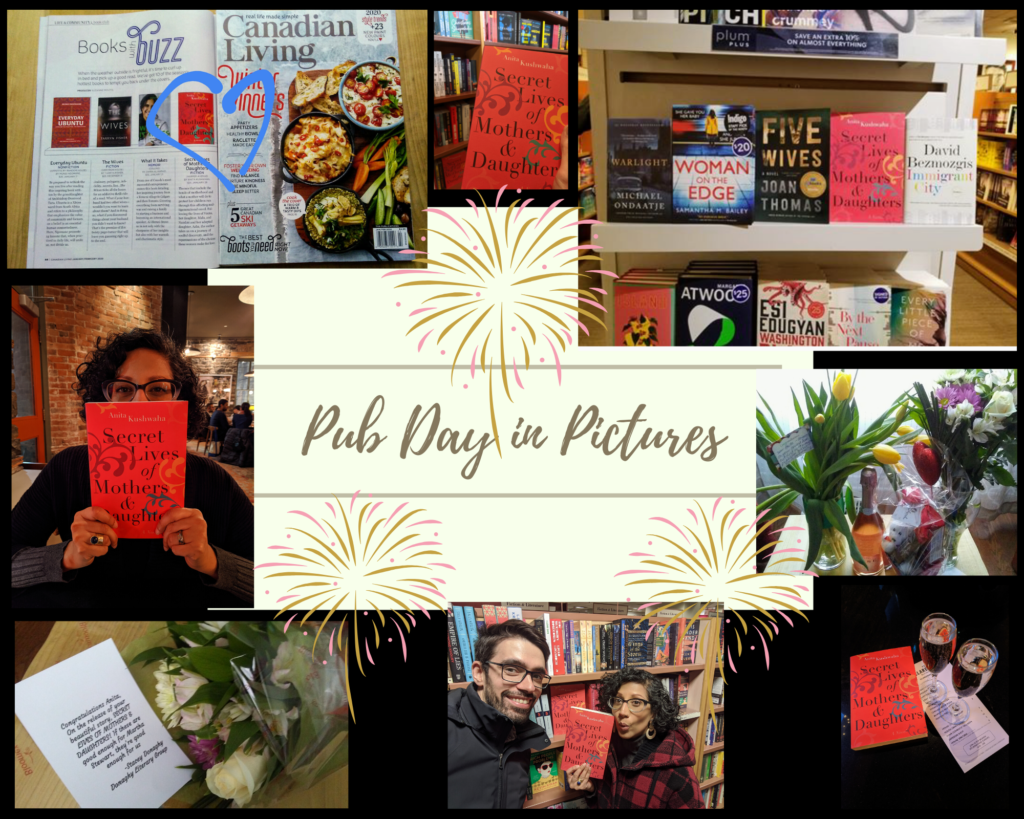 Release dates for Secret Lives of Mothers & Daughters:
Canada: January 28th, 2020 / US, UK, AUS, NZ: February 18th, 2020
Synopsis
For readers of Shilpi Somaya Gowda's "Secret Daughter" and Nancy Richler's "The Imposter Bride", a breathtaking novel from Anita Kushwaha about the ties that bind mothers and daughters together and the secrets that tear them apart.

Veena, Mala and Nandini are three very different women with something in common. Out of love, each bears a secret that will haunt her life—and that of her daughter—when the risk of telling the truth is too great. But secrets have consequences. Particularly to Asha, the young woman on the cusp of adulthood who links them together.

On the day after her eighteenth birthday, Asha is devastated to learn that she was adopted as a baby. What's more, her birth mother died of a mysterious illness shortly before then, leaving Asha with only a letter.

Nandini, Asha's adoptive mother, has always feared the truth would come between them.

Veena, a recent widow, worries about her daughter Mala's future. The shock of her husband's sudden death leaves her shaken and convinces her that the only way to keep her daughter safe is to secure her future.

Mala struggles to balance her dreams and ambition with her mother's expectations. She must bear a secret, the burden of which threatens her very life.

Three mothers, bound by love, deceit and a young woman who connects them all. Secret Lives of Mothers & Daughters is an intergenerational novel about family, duty and the choices we make in the name of love.
Buy or pre-order a copy of Secret Lives of Mothers & Daughters:
Amazon.com 
Amazon.ca
Amazon UK 
Barnes & Noble
Chapters
Indie Bound
Find Anita on social media:
Goodreads
Twitter 
Facebook 
Instagram 
Website 
Publisher's website: HarperCollins