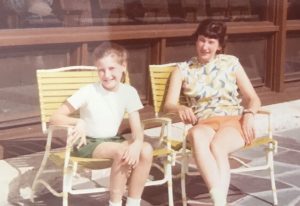 Shopping together is one of the things I enjoyed (and miss) doing with my mother. Although we usually didn't buy much, wandering around the shops and then having lunch was when Mom and I had some of our best talks.
In between teaching me how to spot a bargain, upcycle a dated outfit with trendy accessories, and drawing inspiration from seasonal fashions (including our shared love of shoes), it was during those times that I learned much about my mom's life and how she lived it. And as I cleared out her closet after her death, most pieces of clothing carried a memory, not only about having seen her wear a particular item but often when she bought it, too.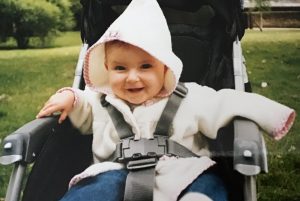 English Rose and I have shopped together since she was a baby, and when we lived in England, we often took the train from our village to the nearest big town to visit a shopping centre there. From an early age, she too was fascinated by shoes, especially sparkly ones, and counted on stopping for a drink and biscuit (cookie) before making the journey home.
Indeed, when I think of Marks & Spencer, a famous British department store, I'm always reminded of when a toddler English Rose unbuckled the supposedly child-resistant restraint on her pushchair (stroller) and, whilst I paid for a purchase, scampered away at speed, getting within striking distance of an escalator before I caught up with her.
English Rose celebrated her sixteenth birthday this week and these days, our shopping trips are, of course, much different. Since shopping is something she usually does with friends, I was honoured when she asked me to come with she and a friend for a back-to-school shopping trip in the city—and not only as a needed source of transport!
As we looked at clothes together, I thought of many other shopping trips—past, present and, I hope to come.  
Like my dear mom, English Rose has a keen eye for a bargain and snagged a graphic T-shirt for only a dollar as part of a special promotion.
She also was armed with a list and map of the mall with stores to visit highlighted on her phone to ensure she paced herself—as needed to manage the various medical conditions that are now part of her life.
And not least, she was savvy about colours, style, fabric quality, washing instructions, durability, and use versus garment cost.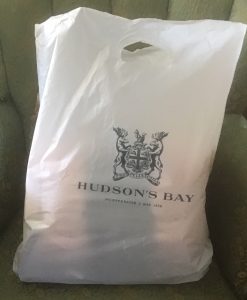 At the end of the day, we came home with several bulging shopping bags because a trip to the city isn't a frequent occurrence for us.
However, I came home with much more beyond the 'Millennial pink' cardigan English Rose assures me is just what I need to update my autumn wardrobe. Rather, I have more happy memories to keep in my heart of a special bonding time with a daughter who is also becoming a friend.
And just maybe, my mom was with us in spirit and nodded in wry amusement and with memories of her own when her words came out of my mouth as I told English Rose that a certain item of clothing was too revealing, at least when she was still living at home!
Writing news…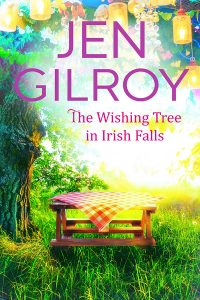 Mother-daughter relationships are a hallmark of my fiction and in my new book, The Wishing Tree in Irish Falls, the heroine, Annie, is a single mom navigating life with her sixteen-year-old daughter, Hannah, with advice (welcome or not) from her own mother, Maureen. I enjoyed writing these family dynamics and hope fictional experiences resonate with some in your own life.
Advance reviews are now coming in, and I'm grateful for how readers are taking Annie and Seth's story, Quinn's Bakery, and small-town Irish Falls into their lives and hearts.
Misty at Reds Romance Reviews called it a "delightful little tale" and said "I was in the mood for a sweet story that would give me the feels, and this one hit the mark."
The reviewer at Reads A Latte Thrillers (who dipped into a new genre to take a chance on my book) "loved every inch of it" and described the story as "absolutely adorable…in the best possible way."
That reviewer also made me smile by "craving Annie's famous cheesecake"  because my fictional heroine's signature bake was inspired by Nanaimo Bars, a Canadian favourite and one of many sweet treats that came from my mother's kitchen.
The Wishing Tree in Irish Falls is out on October 9 and if you're interested, mark it as "to-read" on Goodreads and/or pre-order the Kindle copy on all Amazon platforms including Amazon.com, Amazon Canada & Amazon UK. In the UK and Canada, The Wishing Tree in Irish Falls is also free in Kindle Unlimited.