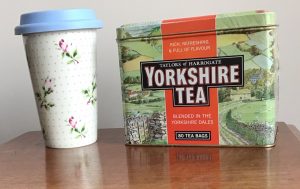 From tea in my favourite mug to so much more, I'm a homebody.
After many moves and other travel, I draw strength and comfort from living in a place where my roots run deep, and in a home where I'm surrounded by pictures, furniture, china, and family memories going back several generations.  
However, as most of you know, I'm currently away from home and in Toronto for a month while English Rose is treated at a rehabilitation hospital here.
I've spent the first two weeks in the condo where Tech Guy stays while he's working in Toronto from Monday to Friday. From next week onwards, English Rose and I will be together in the hospital's family accommodation.
I'm certainly not homeless, but I'm still 'out of home' and displaced from my usual space, routine, and comforts.
At home, from my back porch I see the spire of a church that dates from the 1880s. From the front porch, there's another church spire, this one from a parish that traces its roots even earlier, to the 1820s.
In between are the homes of friends and neighbours—people who know me as "Jen Up the Hill," mum to teen and dog, the woman who writes books, or the one who sings in a choir, takes ballet, or belongs to their book club.
I rarely step outside my house without someone waving at me, even if I don't know them by name.
Here in Toronto, though, I'm a stranger.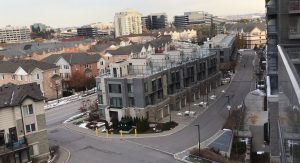 Tech Guy's apartment complex overlooks other buildings, most less than ten years old, and beyond them, a busy road where traffic rushes by 24/7.  
In the elevator and other common areas, people usually avoid eye contact, despite the persistent efforts of Floppy Ears to make friends.
And when I walk my happy hound, most of the time we're traversing empty streets punctuated with deserted and now snow-rimmed patches of green space.
Tech Guy's eighth floor apartment (filled with furniture that pre-dates our marriage twenty-two years ago, or which we acquired during our years in England) is comfortable and to some extent familiar, although very much a minimalist 'bachelor pad!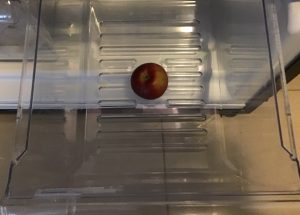 Yet, precisely because I'm 'out of home,' I've realized that home truly is where I am and what I make it.
First and foremost, home for me is love and where Tech Guy, English Rose and Floppy Ears are.
But beyond my family, home means making a conscious effort, like Floppy Ears does, to engage with people here. The mom of the toddler recovering from brain surgery whom I met in the hospital's family room, and the elderly woman with a pug dog living nearby whom I communicate with via smiles, nods, her rudimentary English and my non-existent Russian.
It's being open to people I pass in the corridors of Tech Guy's building, usually while diverting Floppy Ears from tracking the delicious cooking smells emanating from behind various closed doors.
And it's finding and exploring new places, some of which have become favourites.
It's also rediscovering things I enjoyed before my small-town life…that special big-city buzz, gawking at fabulous shoes and up-to-the-minute fashion, eating at Chinese restaurants to rival those I frequented in Hong Kong, and having a fabulous Indian takeaway (takeout) around the corner.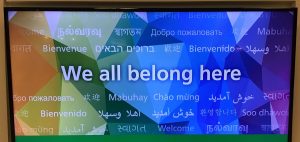 And finally, it's being in a hospital where everyone belongs, where people understand what my family and I are going through, and where English Rose is getting the best possible treatment to live her best possible life.
Home is more a feeling and less a geographical place.
However, when I forgot to pack my dressing gown, I went out and bought a new one. Adaptability only goes so far. And like a window for Floppy Ears to look out of, a cozy dressing gown is a basic requirement of life, as well as writing!