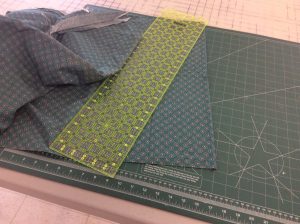 I don't sew, knit, crochet, embroider or do any of the other handicrafts at which women on both sides of my family tree excelled.
In junior high home economics, sewing was painful for both me and my long-suffering mother. Mom made many of her own clothes and was renowned for her knitting, but she'd been blessed with a daughter, me, who struggled to sew a straight seam and to whom sewing patterns were as incomprehensible as geometry.
But fast forward more years than I want to admit, and I now spend one Saturday morning a month volunteering my time (and dubious skills) with my small-town branch of Victoria's Quilts Canada (VQC), an organization that makes quilts to comfort Canadians with cancer.
As with many things in my life, the path to this kind of voluntary work was far from linear.
Thanks to the beautiful quilts made by my mom's great-aunts, quilts were part of my life from an early age, but I didn't know how they were made. Quilts feature in some of my published books too, but to help set a scene rather than being integral to plot. 
However, this spring, when the book I'm currently working on was in its early stages, the heroine's mother became a quilter. As such, I needed to learn about quilting to ensure I referenced details correctly in fiction.
Part serendipity, part living in a small town, I met the president of the local branch of VQC and she invited me to attend a quilting 'bee' to help with book research.
After attending that session, I decided to return to the monthly bees, not as 'author me,' but as a woman with family and friends touched by cancer who wanted to do something, if only in a small way, to help.
When I expressed doubts about what I could contribute, one of the quilters (whose pragmatic manner reminded me of my late mom) said: "You can pin, can't you?"
Yes, I can and while that comment has gone into my book, the time I spend pinning quilt tops to batting and backing to make a "quilt sandwich" is teaching me as much about life as quilting.
Although some men quilt, and indeed the sewing circle in my book has a male member, quilting bees have historically given women opportunities to talk together about their lives, families and communities, as well as bigger world issues.
Through quilting I'm part of a community of women spanning generations and geographies. The conversations over the quilt tables—about husbands, children, grandchildren, jobs, health issues and so much more—encourage me, a writer who lives much of the time inside her head, to look outwards at both the world and my life in fresh ways.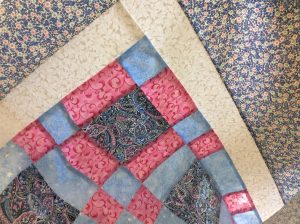 And since I'm part of a community where my mother's family roots date to 1830, maybe it wasn't surprising I'd meet a quilter who knew my late mom and shared precious memories of her as a girl.
Several of the VQC women have offered to teach me to quilt, but I don't think I or they are ready for that particular challenge!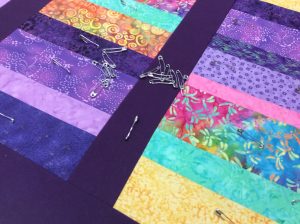 Although I'm not a quilter, with each pin I anchor into fabric, I'm remembering and honouring loved ones whose lives were impacted by cancer…my parents, my auntie Margaret, my cousin Beth, my grandmothers, my friend Katie and more. 
As for my fiction? I've tried to get the quilting details right but when the time comes I now have women I can ask to read for accuracy.
I've also called the hero's dog in that book Honeybell after a quilt pattern. For a writer, a man with a dog named Honeybell offers rich possibilities!