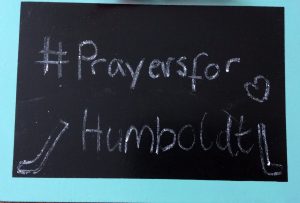 A week ago, on a remote Saskatchewan highway, sixteen people were killed and thirteen others injured in a crash between a semi-trailer truck and a bus carrying players, coaches, a trainer, a local radio announcer and others associated with a Canadian junior (ice) hockey team, the Humboldt Broncos.  
Before then, Humboldt was a small Canadian prairie town few people had heard of. However, in the past seven days, my social media feed has been dominated by #PrayersForHumboldt, #hockeyfamily, #HumboldtStrong and many other hashtags as people in Canada and around the world reach out in the wake of a tragedy that has rocked my country—and me—to the heart.
It hits close to home
In Canada, ice hockey is part of our national identity and in small towns particularly, "the rink" links people together in good times and bad.
Whether for hockey games or other sporting or school activities, bus travel on rural roads is part of almost every Canadian's shared experience, mine included. It's commonplace—except when it's not.
Although in a different part of Canada, I live in a small town much like Humboldt. Here as there, players from the junior hockey team are billeted with local families, and many of those players attend English Rose's school. 
For these reasons and more, this tragedy feels both personal and heartbreakingly close.
Prairie people are inter-connected people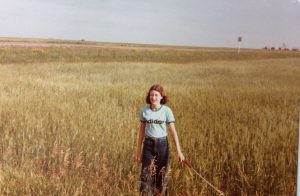 I grew up one province east of Saskatchewan, and small-town Saskatchewan is where my paternal grandparents met. My grandfather was a keen amateur hockey player and on their first date, he invited my grandmother to watch him play.
Hockey and the Canadian prairies are part of my history and once a prairie person, always a prairie person.
As Saskatchewan's premier (like a US state governor) wrote on Twitter: "Our province has always been one community. At our core, we are one small town, neighbours, friends and families."
In this vast and isolated region, where the edge of the flat land touches the tip of the big sky, people are tough, self-reliant, and down-to-earth, and the community spirit of the first pioneers endures. In our cities, people may not know the person who lives next door, but on the prairies, even though the nearest neighbour may be miles distant, people depend on each other in a special way.   
Everyone knows someone, who knows someone, who knows someone else. The Broncos head coach was killed in the accident, and his widow went to school with the daughter of my choir director. The family names of the people riding that bus, of Ukrainian, Mennonite, French-Canadian origin and more, are reminiscent of my childhood.
They are my people and it is my place.
Family bonds, family tragedy
As a mum, my heart aches for the unimaginable pain the mothers, fathers and extended families of those killed and injured are experiencing.
When I heard how mothers cradled their dead and critically injured sons as though they were small boys, I hugged English Rose a little tighter and was reminded that I'm part of a bigger community of parents. When someone's child hurts, we all do.
I've also been on the receiving end of a phone call telling me a loved one had been killed in a road accident and understand how life can change in an instant—and will never be the same again.
This kind of family tragedy sears your soul and although you go on, it's something you may learn to live with but never truly "get over."
My hockey book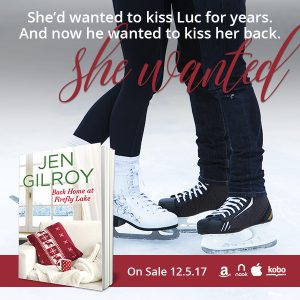 My December 2017 release, Back Home at Firefly Lake, is a hockey book. Although set in Vermont, USA, it was in part inspired by what ice hockey means in my own life and family.
The story was shaped by my grandfather's battered hockey skates, carefully kept by my grandmother until her death.
It was influenced by going to school with a boy who played junior hockey and, like the Humboldt players, rode a team bus across the endless Manitoba prairie before realizing his childhood dream of reaching the NHL.
While I wrote Back Home at Firefly Lake, I heard the sounds of my childhood and adolescence—the scrape of ice skates against a frozen pond in the red twilight of a cold, winter afternoon, and the hollow echo as sticks connected with a puck.
And on my playlist for the book is "Small Towns, Big Dreams" by Canadian country music artist Paul Brandt (born in the prairie province of Alberta). In recent days, that song has become a kind of anthem for Humboldt, and one that Paul performed and dedicated to the town.
Small actions, big impact
As a published author, I've realized one of my big dreams, but for many people that night, their dreams either died or changed forever.
This week, all across Canada, hockey sticks are propped outside front doors in tribute to Humboldt. In schools, and from small businesses to big corporations, people are wearing hockey jerseys and green and gold clothing to honour the Humboldt Broncos and raise money to help the town, the injured, and families of those killed. 
In a small way, I wanted to do something to help too so I've donated some royalties from Back Home at Firefly Lake to the main GoFundMe campaign, one of the biggest in Canadian history.  
Love and family form the foundation of my writing. It is love, family and faith I hold fast to both in my everyday life and amidst tragedy.