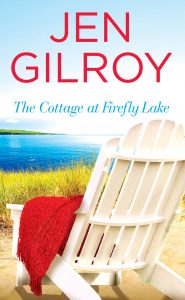 My very first published book, The Cottage at Firefly Lake, releases on January 31. Although advance review copies are already in circulation, the shiny, finished book doesn't hit shelves and e-readers until next Tuesday.
In the author world, a book release is called a "book birthday." Much like the birth of a child, the excitement, and also anxiety associated with birthing a book and sending it out into the world, are immense.
Although I've had months to prepare for this day, it still feels somewhat surreal. The characters who have lived inside my head for so many years (much longer than a nine-month pregnancy!) all of a sudden will have a life independent of me.
When English Rose was ten months old, I returned to my day job from maternity leave and left her at a nursery near our home. The staff were kind, the learning opportunities wonderful, and I knew she'd have experiences that would enrich her life and growth.
Yet, as I left her there and hid behind a door to peer through a high window at her little blonde head bent over a brightly-colored toy, I had a lump in my throat. It was her first big step into the world without me and, even though she was ready for it, I wasn't sure I was.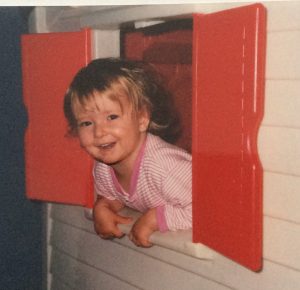 As I look ahead to next week, I have a similar feeling about my book. With the help of my wonderful agent, editor and publishing team, The Cottage at Firefly Lake is as good as I can make it. However, once it goes out into the world of readers—via libraries, bricks-and-mortar stores and digital platforms—it's out of my control.
People I don't know will read my story and talk about it in ways I can't anticipate. Some of those ways will warm my heart. Others will hurt because although people never tell you they dislike your baby, that's not the case when it comes to authors and their book babies.
Much like parents of teenagers, authors must develop a thick skin, effective coping strategies and remember why they write for publication in the first place. For me, it's about sharing my stories to bring even a small measure of the joy, comfort and hope to other readers that books by my favourite authors have brought to me.
English Rose thrived at her day nursery and soon made friends. That big step towards independence was but the first of many she's taken in the past thirteen years.
As for me? After release day excitement (and celebratory ice cream), I'll go back to writing my next book and then the one after that, working hard and continuing to learn my craft to tell my stories in the best way I can.
For those of you who read my book, thank you. I hope you fall in love with the world of Firefly Lake and take the characters into your heart.
If you spot it at your local library or store,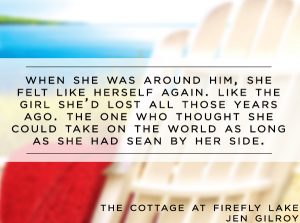 or read it on vacation or in your favorite cozy reading spot, please take a picture and send it to me (jen@jengilroy.com). Authors love "shelfies" and seeing our books "out in the wild."
And if you haven't already done so, you can sign up for my author newsletter here. The first issue goes out on January 31 and includes details about book inspiration and a special giveaway, just for members of my VIP reader community.
You can also pre-order in mass market paperback, audiobook or digital format via Amazon, B&N, iBooks, Kobo,  Google Play and Chapters-Indigo.