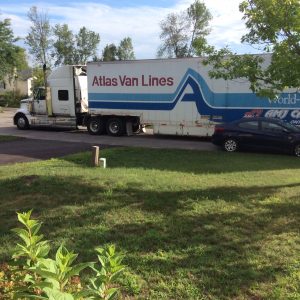 This week, a moving van arrived at my home. It brought a china cabinet that's been in my mother's family since the mid-nineteenth century.
In the furniture world, the cabinet is a stately dowager duchess or grizzled elder statesman. Made of solid wood, it sits on substantive claw feet and features a mirrored shelf and impressive curved glass door and sides.
From an Ottawa Valley farm at the end of the First World War, my grandmother remembered it being taken south by horse and wagon to her family's new home in a town by the St. Lawrence River across from Upstate New York. In quick succession it saw both her wedding and her father's wake.
It journeyed north again to Ontario's Rideau Valley in the late 1940's. This time it travelled by truck along a new "King's Highway." Over the years, it was part of family Christmases, church gatherings, wedding celebrations and funeral sorrows.
When my grandmother moved into senior's housing, the cabinet passed to my mother and, in the late 1970's, travelled over a thousand miles to western Canada. Loaded into a moving truck, it lumbered along a two-lane highway through a landscape that was largely a wilderness frontier.
The cabinet sat in a corner of my parents' living room and displayed cherished collectables on doilies spun as fine as spider's webs. Despite my mother's regular admonitions to "be careful of the glass," it was the backdrop to most family events and group photos.
After Mom's sudden death, it was hard to look at the cabinet that had been such a part of her life and family. The pain was too fresh and memories too raw. When I packed up the china and glassware, the cabinet stood empty like a gaping wound of loss.
Time has healed, memories now bring comfort and it was time for the cabinet to travel back on that thousand miles plus of highway to Ontario, again in a moving van through that same north-country wilderness.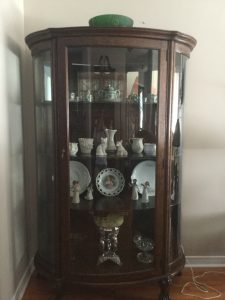 Like the women before me, I worried about how the cabinet would survive its journey. Yet, when the movers eased it through my front door and took off the layers of protective wrap, the curved glass and mirrored shelf winked back as they've done for generations. 
The cabinet is now in my living room, as solid and unchanging as I remember it from childhood, and a tangible link with a past and people I cherish.
Flat-packed furniture and home decorating trends are as fleeting as the seasons. At 150 years and counting, my cabinet graces the twenty-first century with aplomb.
It's not for only one season of my life. It's forever.