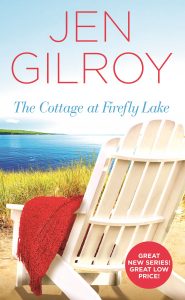 My first book, THE COTTAGE AT FIREFLY LAKE, releases on January 31, 2017 in mass market paperback and e-book, and it's up for pre-order on Amazon.com, Amazon Canada, Amazon UK and Barnes & Noble. 
Today, I'm delighted to share my beautiful cover with you. It captures the summertime feel of my book perfectly, an emotional,  second-chance love story about redemption and finding your way home.
To celebrate, there's a giveaway on my Facebook author page with my publisher sending a bundle of new contemporary romances to one lucky winner.
What do you need to do to have a chance to win*?
Visit my author Facebook page here. If you haven't already done so, "Like" the page by clicking on the "Like" button at the top of the page on the right.
Comment on my post of July 7 where I announce the cover reveal and giveaway.
The giveaway runs until midnight ET on Saturday, July 9, 2016. I'll choose a winner at random on Sunday, July 10 and post their name to my Facebook author page.  
Even if we're already "friends" on Facebook, I'd appreciate it if you could "Like" my author page too. I usually post there daily and, like the welcoming front porches in the small towns I write about, it's where I chat with friends about life and books. 
The prize package 
Hachette Book Group USA, Grand Central, Forever will send** one lucky winner this bundle of new releases, including titles by New York Times and USA Today bestselling authors.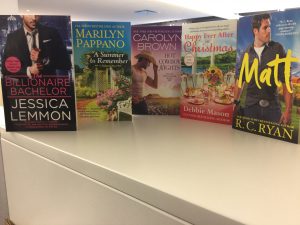 My editor, Michele Bidelspach, who chose the collection especially for my cover reveal giveaway, describes it as "a nice mix of cowboys and billionaires and military men, not to mention sexy and sweet."
I've included links to each author's website so you can check them out and, just maybe, find your next favourite romantic read.  
Jessica Lemmon, THE BILLIONAIRE BACHELOR 
Marilyn Pappano, A SUMMER TO REMEMBER
Carolyn Brown, HOT COWBOY NIGHTS
Debbie Mason, HAPPY EVER AFTER IN CHRISTMAS 
R.C. Ryan, MATT 
Terms & conditions
*With apologies to my international readers, this giveaway is only open to residents of the USA and Canada.
** As my publisher is managing this giveaway, if you win I'll need to share your mailing address with them so they can send you the prize package.